In my previous post, I mentioned how I'm cooking from the Clean Slate cookbook and seeing if I actually enjoy clean eating. Before, I assumed clean eating meant bland eating, and I've learned that's absolutely not the case! For breakfast I've tried Barley with Pineapple, Coconut, & Flaxseed. It sounds unusual but tasted so good! Next up was trying something for lunch. I picked this Quinoa Salad with Zucchini, Mint, & Pistachios because it's all of my favorite ingredients and I usually have most of them on hand.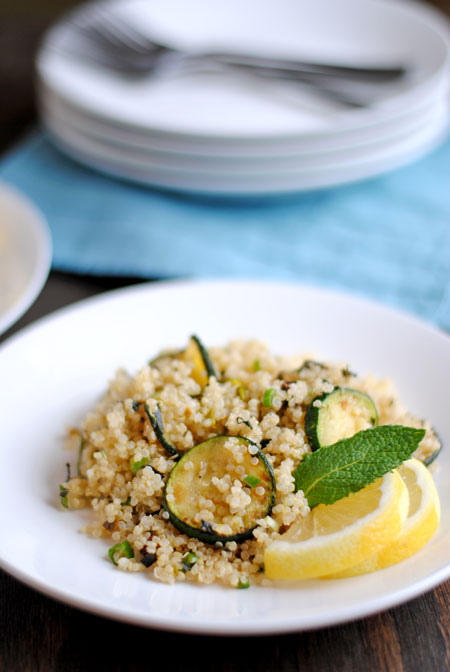 So, how's it taste?
Another hit! I loved the combination of flavors in this salad, plus it was really easy to put together. Instead of cooking the zucchini in a pan, next time I'll roast it and increase the amount. I love, love, love roasted vegetables, especially zucchini so the more the merrier! I really like the contrast of textures with the quinoa and crunchy pistachios. The pistachios also gave it some saltiness. The mint and lemon brighten the salad, while the scallions gave it a touch of subtle heat (and more crunch!). I took this salad to work for lunch several days in a row and the leftovers were just as tasty, although I will warn that the quinoa continues to soak up the oil and lemon juice so it can get a bit dry.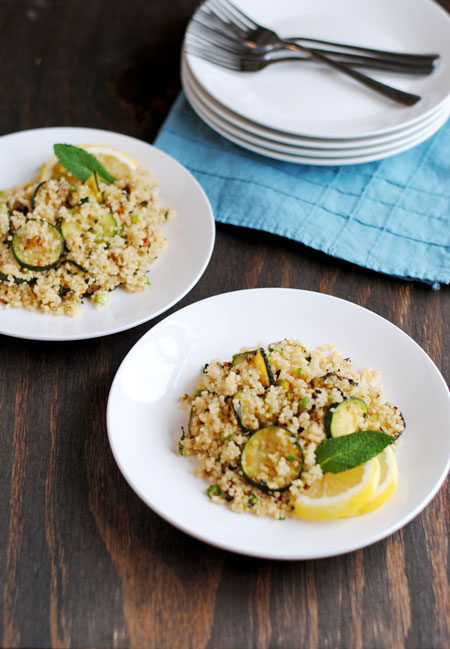 Even with such simple ingredients, this was really filling for lunch. I'm finding out clean eating is really tasty eating! The dishes you see in the pictures above are part of the Martha Stewart Collection white dishware available exclusively at Macy's. Fantastic dishware for everyday use, plus they're dishwasher and microwave safe!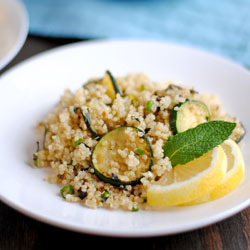 Quinoa Salad with Zucchini, Mint, & Pistachios
Ingredients:
1 1/2 cups water
1 cup quinoa, rinsed & drained
coarse salt & freshly ground black pepper
2 tbsp. extra-virgin olive oil
1 zucchini, thinly sliced
1 garlic clove, thinly sliced
3 scallions, thinly sliced
1/4 cup roasted salted pistachios, chopped
grated zest and juice of 1 lemon
1/2 cup packed fresh mint leaves, chopped, plus more for garnish
Directions:
1. Bring the water, quinoa, and salt to a boil in a medium saucepan. Reduce heat, cover and simmer until liquid has been absorbed and quinoa is tender but still chewy, about 15 minutes. Transfer to a large bowl; fluff with fork and let cool.
2. Heat oil in large skillet over medium-high heat. Add zucchini; cook, stirring occasionally, until tender and golden, about 7 minutes. Add garlic; cook until fragrant (do not let brown), about 30 seconds. Season with salt and pepper, and add to quinoa.
3. Stir in scallions, pistachios, lemon zest and juice, and mint. Season with salt and pepper and serve.
per serving: 286 calories, 13g fat, 36g carbs, 8g protein, 5g fiber
Disclosure: I received a copy of Clean Slate: A Cookbook and Guide: Reset Your Health, Detox Your Body, and Feel Your Best and the Martha Stewart Collection white dishware at no cost. All opinions expressed here are solely my own, as always. This post contains affiliate links.