Well, hello there scrumdillyicious pizza that's not only vegetarian but low calorie! A few issues back, Cooking Light had a magazine featuring several mouth-watering pizzas. Back in February, I bought this cool (purple! or rather figue) pizza stone and it sat in my pantry for months. I should have smacked myself for buying it and not making this Spring Vegetable Pizza with Gremolata right away!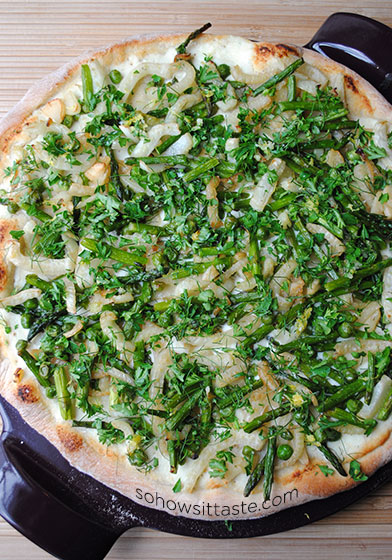 So, how's it taste?
It was so much better than I had expected! There's not really a sauce, so I was worried it would be dry and boring. Quite the opposite! The ricotta, milk, and Romano take the place of a sauce, but it's thick and ooey gooey with all that cheese. I used Asiago because it's cheaper and I almost always have a wedge in my freezer. That gets topped with those beautiful, green vegetables. Peas, asparagus and fennel. Fennel is really lovely when it's cooked and I've been eating a lot of it lately. Once your pizza is done, it gets topped with a mixture of the fennel fronds, lemon peel, parsley, and more garlic. So much flavor!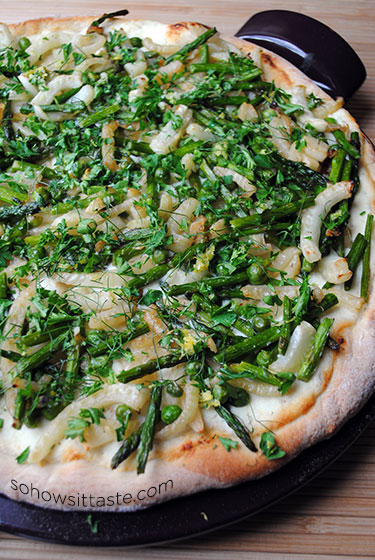 The pizza stone worked fantastically, too. It made for a really crispy crust that I've never been able to get at home when I make pizza. You could certainly make your own pizza dough, but buying it ready to use made this meal a cinch. A serving is two wedges, which is really ample. Who doesn't love pizza that tastes incredible, but with no guilt?!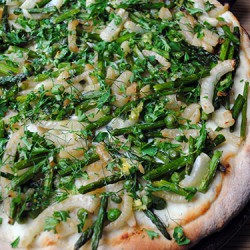 Spring Vegetable Pizza with Gremolata
Cooking Light, April 2013
makes 4 servings (2 wedges)
per serving: 372 calories, 9.9g fat, 16.6g protein, 52.8g carbs, 10.1g fiber
Ingredients:
12 oz. refrigerated fresh pizza dough
Cooking spray
1 large fennel bulb with stalks
1 tbsp. olive oil
1/2 cup frozen green peas
1 1/2 cups (3-inch) pieces asparagus, cut in half lengthwise
5 garlic cloves, thinly sliced
2/3 cup part-skim ricotta cheese
3 1/2 tbsp. 2% reduced-fat milk (nonfat works well too)
1/2 tsp. freshly ground black pepper
1.5 oz. pecorino Romano cheese, grated (about 1/3 cup) (Asiago works well too)
1/4 tsp. kosher salt
2 tbsp. chopped flat-leaf parsley
1 tbsp. grated lemon peel
1 large garlic clove, minced
Directions:
1. Place a pizza stone or heavy baking sheet in oven. Preheat oven to 500° (keep pizza stone or baking sheet in oven as it preheats).
2. Place dough in a microwave-safe bowl coated with cooking spray. Cover and microwave at MEDIUM (50% power) 45 seconds. Let stand 5 minutes.
3. Remove stalks from fennel bulb; reserve 1 tablespoon fronds. Cut bulb into thin slices. Heat a large skillet over medium-high heat. Add oil to pan; swirl to coat. Rinse peas in cold water to thaw; drain. Add peas, fennel bulb, asparagus, and sliced garlic to pan; sauté 2 minutes.
4. Roll dough into a 14-inch circle on a lightly floured surface; pierce entire surface liberally with a fork. Carefully remove pizza stone from oven. Arrange dough on pizza stone. Combine ricotta, milk, pepper, and pecorino Romano cheese; spread evenly over pizza, leaving a 1/2-inch border. Bake at 500° for 5 minutes. Carefully remove pizza stone from oven. Top pizza with pea mixture. Bake at 500° for 5 minutes or until crust is browned and crisp. Remove from oven; sprinkle evenly with salt. Combine reserved fennel fronds, parsley, lemon peel, and minced garlic; sprinkle over pizza. Cut into 8 wedges.
This post contains affiliate links.