I think my indecisiveness leads me to choose foods with a combination of flavors. If you ask me to choose between savory and sweet, I just can't do it. I like it all. So I find myself drawn to dishes that have everything. They may seem a little odd, but so far I've had luck in enjoying them. I picked these Crescent Picadillo Bundles because they have the strangest ingredients, all wrapped into a crescent roll. Onions, tomatoes, and green olives mix with almonds, raisins, and cinnamon. Strange, huh?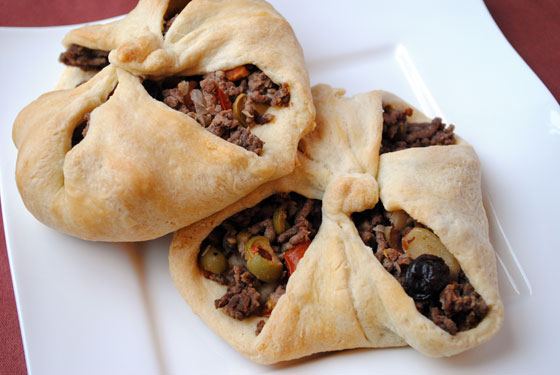 So, how's it taste?
I liked it! From the ingredient list, it sounds like it could be disgusting, but all the flavors come together nicely. I've made two dishes before (Pastitsio and Moroccan Sweet Potato Stew) that had an odd mix of ingredients, so I had some faith in this one. I liked the tang from the vinegar and green olives against the sweet of the raisins and cinnamon. Neither flavor was overpowering, just complimentary of each other. The crescent roll was a nice touch, too. They go well with either sweet or savory, so it was a great vehicle to serve the meat mixture. I chose the reduced fat version because it's less greasy. I do feel like the dish was missing some kind of sauce, either inside or to pour over the top. I ate a few with a dollop of sour cream which did the trick. I also think a scoop of chunky guacamole would be tasty, too. I even thought making a sauce out of sweet potatoes similar to the Moroccan Stew might be adventurous and delicious! I'll have to experiment with that one.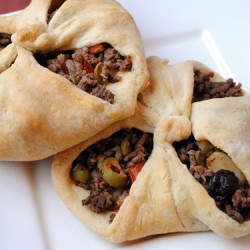 Crescent Picadillo Bundles
Ingredients:
1/2 lb. lean ground beef
1/4 cup chopped onion
1 garlic clove, minced
1 tbsp. sliced almonds
1 tbsp. raisins
1/8 tsp. cinnamon
2 tbsp. chopped green olives
2 tsp. vinegar
1 small tomato, chopped
1 (8-oz.) can refrigerated crescent dinner rolls
Directions:
1. Heat oven to 350°F. In medium skillet, cook ground beef, onion and garlic over medium-high heat until beef is thoroughly cooked, stirring frequently. Drain.
2. Add almonds, raisins, cinnamon, olives, vinegar and tomato; mix well. Reduce heat; simmer 8 to 10 minutes or until liquid is absorbed, stirring occasionally.
3. Separate dough into 4 rectangles. Firmly press perforations to seal. On ungreased cookie sheet, press or roll each rectangle to form 6x5-inch rectangle. Spoon about 1/2 cup beef mixture in center of each rectangle. Pull 4 corners of dough to top center of filling; twist firmly.
4. Bake at 350°F. for 18 to 23 minutes or until golden brown.