I know you're like me and sometimes you find a recipe in a magazine or on another blog and you can't get it out of your mind. That's how I felt with Roasted Zucchini and Ricotta Sandwiches. I could not stop thinking about how awesome this sandwich might taste. You see I'm a roasted veggie junkie, and my veggies of choice most times are zucchini and yellow squash. Roasting veggies brings out their flavor big time and it's such an easy way to prepare veggies so you don't have to babysit while they cook.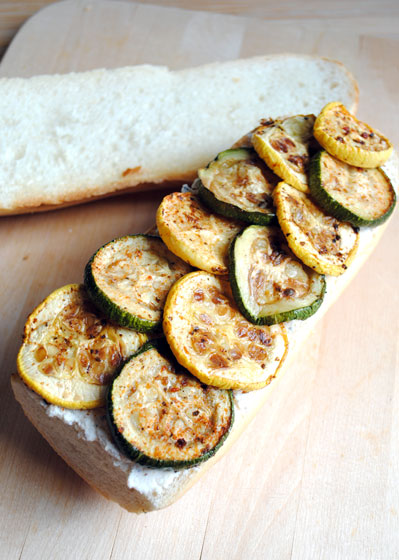 So, how's it taste?
I loved it! As I'm continuing my journey on eating healthier (most days!) and working out, my body craves veggies big time. Don't worry, I'm not giving up a juicy burger any time soon, but this sandwich was just as satisfying and filling as any meat counterpart. I've already confessed my love for roasted veggies, but I also love cheese. Lots and lots of cheese! This sandwich is a win win win with it's zucchini (I added yellow squash, too), cheese, and bread. I tried it on wheat sandwich bread, but it really needs something bulkier like French to hold it. Plus I really liked the crunch from the French bread in contrast to the soft cheese and veggies.
I made a few changes to the original recipe as noted below. I used dried herbs for convenience, but you can choose fresh if you like. If the texture of ricotta doesn't float your boat, put the mixture in a food processor and let it get fluffier and smoother. Cottage cheese would work well processed, too. I also skipped the salting step. I don't have patience for all that and I've always roasted zucchini straight away. You'll probably get a crisper zucchini slice doing the salting step, so I'll leave that up to you to decide. Any way you make it, you're going to love this sandwich!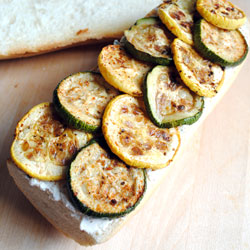 Roasted Zucchini and Ricotta Sandwiches
Ingredients:
2-3 medium zucchini or yellow squash
2 tsp. kosher salt
Olive oil (skip this and use cooking spray if you want to save some calories)
Coarsely ground black pepper
1 cup ricotta cheese (I used low-fat)
1 clove garlic, minced
1 tsp. oregano
1 tsp. basil
1-2 tbsp. milk (optional, I used almond milk)
Salt and pepper, to taste
bread, split and toasted (sandwich, French, etc.)
Directions:
1. Slice the zucchini in 1/4-inch-thick slices. Place the slices in a bowl, add in the kosher salt, and toss well to coat. Let stand 20-30 minutes. When the salt has drawn the excess liquid from the zucchini slices, use a slotted spoon to remove the slices to a work surface covered with paper towels. Blot away excess liquid. (I skipped the salting step, but wanted to include this in case you prefer to do it.)
2. Preheat the oven to 400F. Transfer the zucchini to a baking sheet lined with foil or parchment paper and arrange in a single layer. Drizzle very lightly with olive oil and season with salt and pepper. (I used seasoned salt and garlic pepper.) Roast for about 16 minutes, using tongs to flip the zucchini slices over halfway through the roasting time. Remove from the oven and let cool slightly. (Alternatively, to save some calories, spray foil with cooking spray before placing your slices on the sheet. Omit olive oil and lightly spray tops of zucchini slices. Sprinkle with salt and pepper.)
3. Meanwhile, in a small bowl combine the ricotta, garlic, and herbs. Stir together until evenly combined. To give the ricotta a smoother texture (if needed), stir in 1-2 tablespoons of milk until evenly combined. Season with salt and pepper to taste. If you want a super smooth texture, process the cheese mixture in a food processor. (You can certainly use fresh herbs. Just double the amount of dried to get the amount of fresh you'll need.)
4. Spread one side of bread with a generous layer of the ricotta mixture. Layer with the roasted zucchini slices and place the remaining half of the bread on top.  Serve immediately.