Reubens are usually my go-to sandwich. Well, that's not true. It's a tie between chicken salad sandwiches and Reubens. I consider myself quite the connoisseur. That's why I was all kinds of curious when I found this Reuben Sandwich Casserole. It's pretty much a deconstructed Reuben made in a pan and baked in the oven. The benefit is you eat it with a fork. I like my Reubens dripping with dressing and kraut, so it can get pretty messy eating them.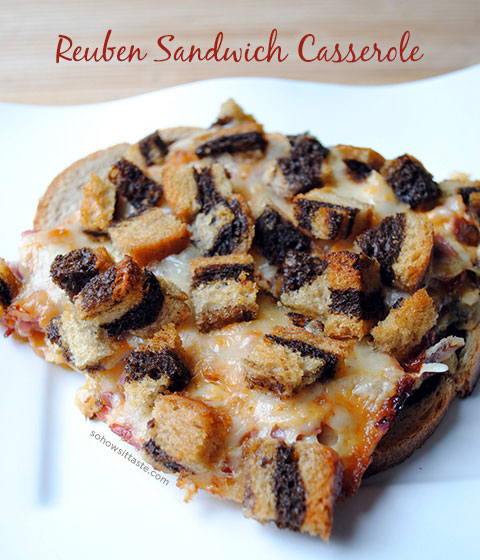 So, how's it taste?
While I thought this was good, it's not going to take the place of the sandwich form. This version is handy since you can easily eat with a fork and save your fingers from sticky dressing. I found it very, very rich though. It's a lot of dressing and kraut…which I thought I was a fan of, but this was just too much. I improvised and ate each serving on top of a piece of toasted bread. I used a pumpernickel/rye swirl bread, too, instead of just rye. Adding the slice of bread to my servings balanced out the richness from all that sauce and kraut. It also made it more like the sandwich with more bread. It's still as cheesy and greasy as the sandwich, but cleaner on the hands!
This is part of the Eating Their Words series on my blog, where I'm making at least one recipe from every cookbook I own.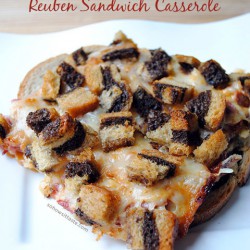 Reuben Sandwich Casserole
Ingredients:
32 oz. jar sauerkraut, rinsed & drained
1/2 cup onion, chopped
4 tsp. dried parsley flakes
2 tsp. caraway seeds
4 cups (1 lb.) Swiss, shredded
1 1/3 cups Thousand Island dressing
12 oz. thinly sliced cooked corned beef, coarsely chopped
6 slices rye bread, cut into 1/2-inch cubes
1/4 cup butter, melted
8-10 slices rye bread, toasted, for serving (optional)
Directions:
1. Preheat oven to 375F. In a large bowl combine sauerkraut, onion, parsley, and caraway seeds. Spread sauerkraut mixture evenly into an ungreased 9x13-inch baking pan or dish.
2. Top with half of the cheese, half of the salad dressing, and all of the corned beef. Top with the remaining salad dressing and the remaining cheese.
3. In a large bowl toss bread cubes with the melted butter to coat. Sprinkle bread cubes over casserole.
4. Bake, uncovered, about 35 minutes or until heated through and bread cubes are browned.
per serving: 596 calories, 45g fat, 22g carbs, 10g fiber, 26g protein
Source: 9x13: The Pan That Can (Better Homes and Gardens Cooking)
This post contains an affiliate link.