I'm a huge fan of pork chops. Easy to cook and go with just about any flavor combination. Sweet, savory, spicy, combo of all three, it works with pork chops. The simplicity of these Spicy Skillet Pork Chops attracted me to the recipe. It's pretty much a dirty-one-dish meal and takes no time to put together, so it's great for a weeknight. If you like spicy, crank up the amount of hot pepper sauce to suit your taste.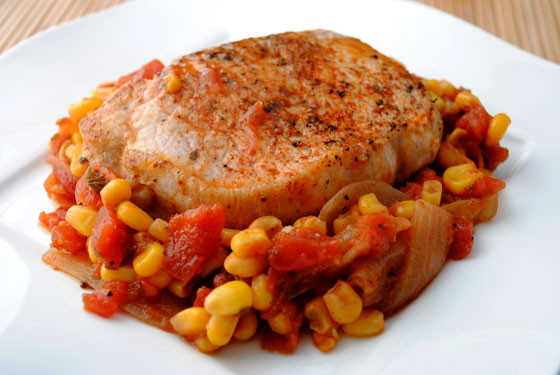 So, how's it taste?
I was thinking this would turn out to be a regular pork chop dinner, but it surprised me  how good it was! Who knew frozen corn and a can of diced tomatoes could be so tasty? The cumin, onion, and garlic really bring it all together and make it super flavorful. I liked how the onions were in wedges instead of diced, too. I wish I had known about chipotle chili pepper powder before I made this recipe! That would be a nice substitution for regular chili powder and really amp up this dish. I got a little crazy with the spicy in mine though (I used Sriracha because it's got such great flavor along with the heat). If you happen to overdo it on the heat too, try adding a small dollop of sour cream to your serving. It tames the heat just a bit.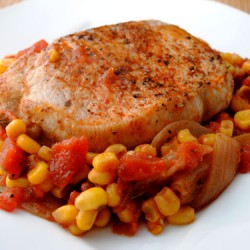 Spicy Skillet Pork Chops
Ingredients:
1 1/2 cups loose-pack frozen whole kernel corn
1 10 oz. can chopped tomatoes and green chile peppers
1/2 tsp. ground cumin
1/4 tsp. hot pepper sauce
2 cloves garlic, minced
4 boneless pork loin chops, cut 3/4-inch thick
1/2 tsp. chili powder
2 tsp. cooking oil
1 med. onion, cut into thin wedges
1 tbsp. snipped fresh cilantro or parsley
Directions:
1. In a medium bowl, combine corn, undrained tomatoes, cumin, hot pepper sauce, and garlic; set aside.
2. Trim fat from chops. Sprinkle both sides of each chop with chili powder. In a 12-inch nonstick skillet heat oil over medium-high heat. Add chops; cook about 4 minutes or until browned, turning once. Remove chops from skillet, reserving drippings. Reduce heat to medium and add onion to skillet. Cook and stir for 3 minutes. Stir corn mixture into onions in skillet. Place chops on corn mixture. Bring to a boil; reduce heat. Simmer, covered, for 10 to 12 minutes or until pork juices run clear (160F).
3. To serve, remove chops from skillet. Stir in snipped cilantro or parsley into corn mixture in skillet; serve corn mixture with chops.