I've been eating these French Dip Burgers for years. The crusty French bread and savory burger dipped in au jus is simply fantastic. I'm usually the kind of burger girl that piles on the condiments, cheese, and veggies, but these burgers just don't need anything.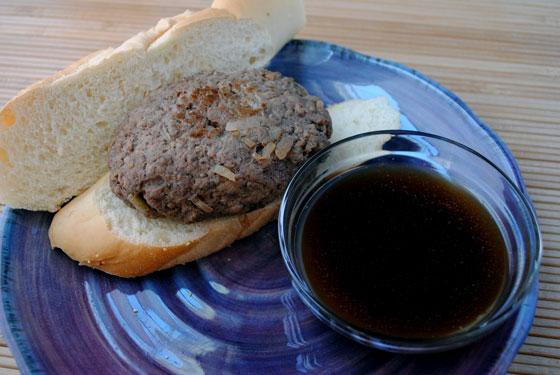 So, how's it taste?
I'm wishing I was sinking my teeth into one of them right now! The onion soup mix really makes these burgers tasty. Yep, that's right, it's all burger, onion soup mix, and bread. That's it! I also like the change from a bun. It's easier to dip the burgers into the au jus when they are in the oval shape on French bread. Instead of firing up the grill, I cooked my burgers in a skillet, so use whatever cooking method works best for you. The bread isn't toasted in the picture above, but I highly recommend toasting it in a toaster oven or on the grill. I love simple dishes like this one that have big flavor and you can get your burger fix easily during a busy week!
French Dip Burgers
Ingredients:
1 cup water
1 package (1 oz.) dry onion soup mix
2 tbsp. water
1 lb. lean ground beef
8 diagonal slices French Bread (1/2 inch thick)
Directions:
1. Heat gas or charcoal grill. To make hot broth in 1-quart saucepan, mix 1 cup water and 2 tablespoons of the soup mix. Heat to boiling. Reduce heat to low; cover and simmer while making and grilling patties.
2. In medium bowl, mix 2 tablespoons water and the remaining soup mix until well blended. Stir in ground beef. Shape mixture into 4 oval-shaped patties, 1/2 inch thick.
3. Place patties on grill; cover grill. Cook with medium heat 11 to 13 minutes, turning once, until thermometer inserted in center of patties reads 160°F. During last 2 minutes of cooking time, place bread slices on grill; cook 1 to 2 minutes, turning once, until lightly toasted.
4. To serve, place each patty between 2 slices French bread. Serve with hot broth for dipping.