You can tell from my last few entries that I was really into one-dish meals that are easy to whip together. With frozen ravioli, frozen broccoli, and a jar of alfredo, there wasn't too much heavy lifting on this Primavera Ravioli Bake. The recipe calls for sausage filled ravioli, but I opted for the cheese filled.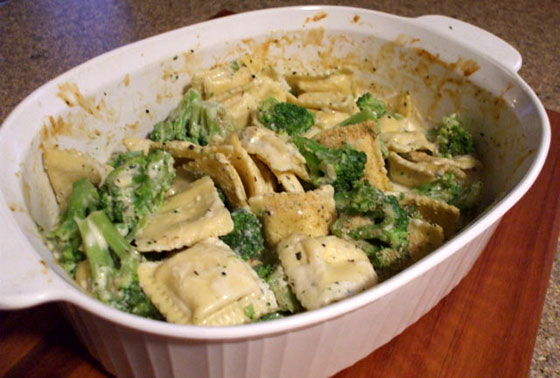 So, how's it taste?
Yech! I was really looking forward to this dish. It has all the ingredients I like, but it is so bland. I had to add salt to my serving. The dish should be savory, but had a sweet taste to it. I'm not sure if it was my alfredo sauce or what. I used Newman's Own, which I had never tried before. It tasted fine when I sampled it before dumping it into the dish. I'm not sure what you could do to spice it up a bit, so I will not be making this one again.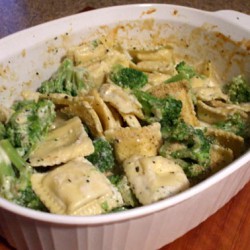 Primavera Ravioli Bake
Ingredients:
1 bag (25 oz.) frozen Italian sausage-filled ravioli
6 cups frozen broccoli florets
1/2 cup chopped drained roasted red bell peppers (from 7 oz. jar)
1 jar (1 lb.) Alfredo pasta sauce
3/4 cup milk
1/2 tsp. Italian seasoning
1 cup Parmesan croutons, crushed
Directions:
1. Heat oven to 350°F. Spray 13x9-inch (3-quart) glass baking dish with cooking spray. Spread frozen ravioli in baking dish. Top with remaining ingredients except croutons; mix slightly to coat ravioli.
2. Cover baking dish with foil. Bake 50 minutes; stir. Sprinkle with croutons. Bake uncovered 10 to 15 minutes longer or until bubbly around edges and thoroughly heated.