I have such a love affair with sandwiches. I think they're completely underrated and you can get really creative with them, too. Although there's nothing wrong with a good ol' PB&J. I've got a pretty decent sandwiches category on the blog, but I'm always on the lookout for new creations. This Turkey Cucumber Dill Sandwich popped out at me because of its simplicity and that dill! I don't know when my obsession with dill started, but if it's in a recipe, I'm making it. And more often than not, I'm tripling the amount. I'm crazy for it.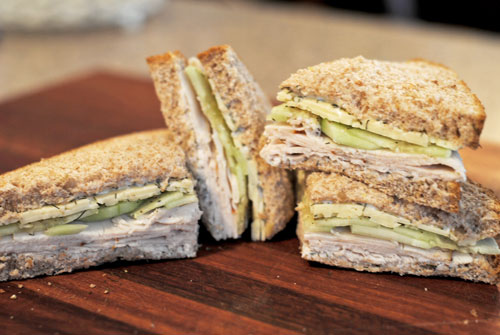 So, how's it taste?
What I loved about this sandwich is it's fresh, crisp taste. Putting cucumbers on a sandwich is a game changer. I first learned this when I lived in Birmingham and ate the world's best chicken salad at a place called O'Carr's. They serve their chicken salad sandwiches with very thinly sliced cucumbers and I was hooked. This coming from someone who disliked cucumbers back then!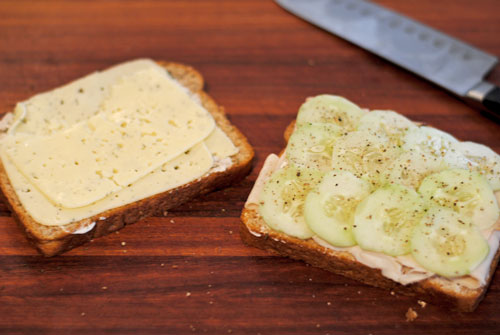 Havarti ties Gouda for my top favorite cheeses of all time. It's so buttery and creamy and melts beautifully. I made this sandwich with all the ingredients cold, but also tried it with the bread toasted and the Havarti melted. It's fantastic at any temperature. There's dill in the Havarti, but if that's too much for you, certainly use plain. Instead of mixing the dill with the mayo, I sprinkled it on top…like a crazy amount because I love it. I also added a bit of freshly ground black pepper to the cukes. Any way you want to make this, you won't be disappointed!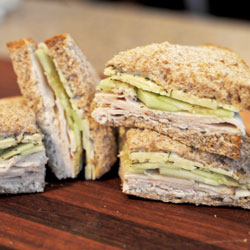 Yield: 4 servings
Prep Time: 15 min
Total Time: 15 min
Turkey Cucumber Dill Sandwich
Ingredients:
1/4 cup mayonnaise
1 tbsp. dried dill weed
8 slices multigrain bread
1/2 lb. sliced cooked deli turkey
4 slices (1 oz. each) dill Havarti
16 thin slices cucumber
Directions:
1. Mix mayonnaise and dill weed. Spread on one side of each bread slice. Alternatively, spread mayo on bread and sprinkle dill on top of mayo.
2. Top 4 slices with turkey, cheese, and cucumber. Top with remaining bread.