I'm a huge fan of breakfast, even breakfast for dinner. I'm also a lover of pretty much anything with bacon. I've been searching for the best Bacon Waffles and I've finally found a recipe I really like. My waffle maker is Belgian-style, but these would be even better with a standard waffle iron. Crispy bits of bacon surrounded by light waffle batter, smothered in butter and syrup. I'll take that meal anytime of day.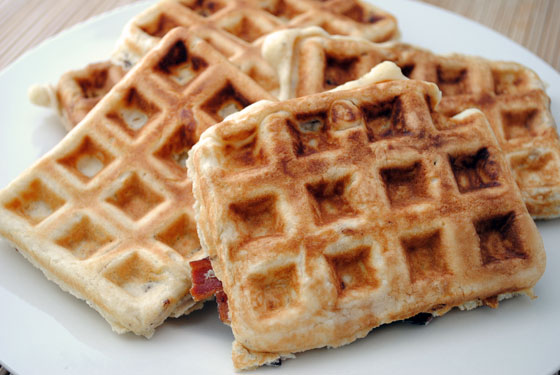 So, how's it taste?
Finally a bacon waffle recipe that is not only easy to whip together but satisfies my craving for salty and sweet. After a few bombs in the kitchen, I was so happy with the results of these waffles. The crumbled bacon stayed crunchy and was spread throughout the fluffy batter. I liked that these waffles weren't very heavy. The batter is slightly sweet, but it can handle the added sweetness of the syrup. The bites of salty, smoky bacon with syrup were perfect. These freeze well, so make the entire batch and have homemade bacon waffles anytime you get a craving!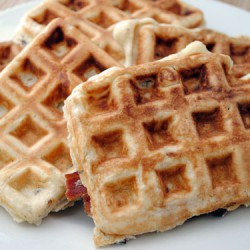 Bacon Waffles
Ingredients:
2 cups all-purpose flour
1 tbsp. baking powder
1/4 tsp. baking soda
2 tbsp. sugar
2 large eggs
3/4 cup buttermilk
3/4 cup whole milk
4 tbsp. unsalted butter, melted
6 strips bacon, cooked & crumbled
Syrup, for serving
Directions:
1. Heat a waffle iron.
2. In a medium bowl, stir together flour, baking powder, baking soda, and sugar. In another bowl, whisk together the eggs, buttermilk, milk, and melted butter. Stir the crumbled bacon in to the wet ingredients. Mix the dry ingredients into the wet ingredients all at once with a wooden spoon until just combined. The batter will be lumpy. Do not overmix.
3. Pour the amount of batter recommended by your waffle iron manufacturer onto the waffle iron. Bake as directed. (I use the Belgian waffle plates for the Cuisinart Griddler and it takes about 3-4 minutes.) Serve hot with syrup.