I was flipping through my cookbooks last week and nothing sounded good to me. Do you ever get in those moods where you want something, but you have no idea what that something is? I was in the mood to cook, but had no cravings. Nothing was jumping out at me, until I flipped to Smothered Pork Chops. Crispy pork chops smothered in a white wine-mushroom-chive cream sauce. This is why it's essential for cookbooks to have pictures! I think I even said, "Oh yeah, smothered chops for dinner!" I definitely eat with my eyes first.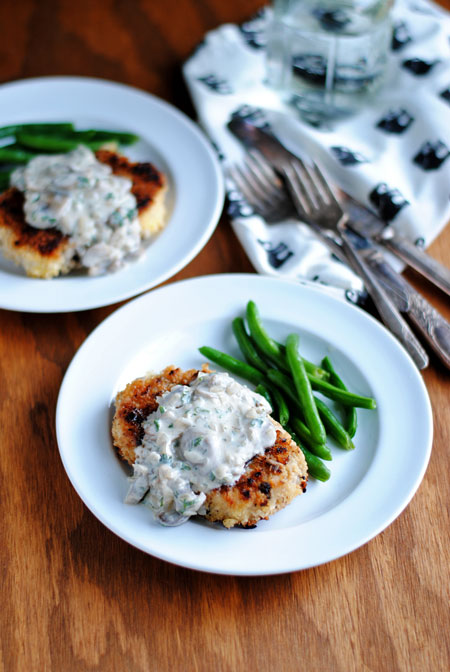 So, how's it taste?
I am such a fan of panko. It made these pork chops deliciously crispy and gives the illusion that they're fried. The pork chops were tender and juicy on the inside and perfectly crunchy on the outside. The directions have them cooking two minutes on each side, but that wasn't enough time for mine to cook through, so be sure to check your chops. Mine may have been thicker.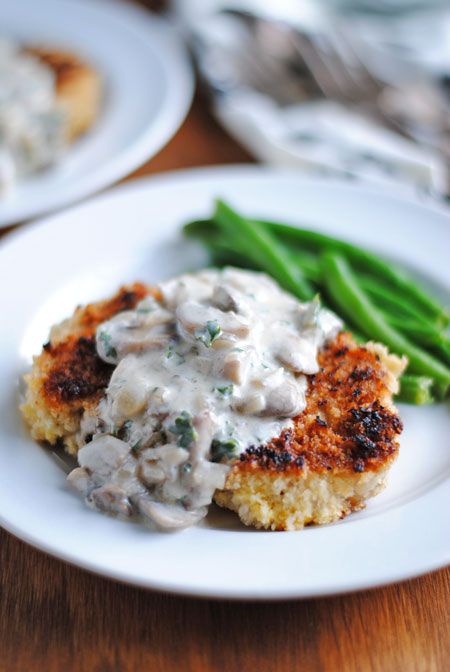 The cream sauce is heavenly. I didn't get mine as thick as I would have liked, but it tasted amazing. Definitely use good white wine because you can detect it in the finished sauce. The sauce was a bit tedious to make and I felt like I dirtied a lot of dishes making this recipe, but it was so worth it. This was such a great dinner paired with a simple side of green beans. It's worth noting that the leftovers are just meh. It's hard to get that initial crispy to come back on the pork chops, and the sauce doesn't last as long. It was ok the next day, but not after that.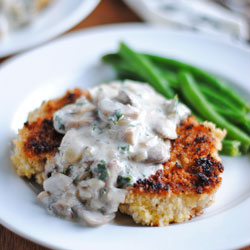 Smothered Pork Chops
Ingredients:
1/2 cup all-purpose flour
1 1/2 tsp. freshly ground black pepper
3/4 cup panko
1 cup half-and-half, divided
1 large egg
4 (4 oz.) boneless center-cut loin pork chops (about 1/2 inch thick)
1/2 tsp. kosher salt
2 tbsp. canola oil
1 tbsp. butter
1/2 cup finely chopped onion
1 (8 oz.) package cremini mushrooms, sliced
1 garlic clove, minced
1/3 cup dry white wine (I used sauvignon blanc)
1/2 tsp. all-purpose flour
1 tsp. water
1 cup unsalted chicken stock (or broth)
2 tbsp. chopped fresh flat-leaf parsley
1 tbsp. chopped fresh chives
Directions:
1. Combine 1/2 cup flour and pepper in a shallow bowl or dish. Place panko in a second shallow bowl or dish. Combine 1/2 cup half-and-half and egg in a third shallow bowl or dish; stir with a whisk.
2. Sprinkle both sides of pork chops with salt. Dredge 1 pork chop in flour mixture. Dip in egg mixture; dredge in breadcrumb mixture. Repeat procedure with remaining pork chops, flour mixture, egg mixture, and breadcrumb mixture. Cover and chill 15 minutes.
3. Heat 1 tablespoon oil in a large nonstick skillet over medium-high heat until hot. Add chops to pan; cook 2 minutes or until lightly browned. Remove chops from pan; add remaining 1 tablespoon oil to pan. Turn chops over; return to pan. Cook 2 minutes or until lightly browned. (Mine took longer to cook, so check for doneness.) Remove from pan; keep warm.
4. Heat butter in pan over medium-high heat. Add onion; sauté 1 minute. Add mushrooms; sauté 3 minutes. Add garlic; sauté 1 minute. Add wine to pan; cook until liquid almost evaporates, scraping pan to loosen browned bits. Combine 1/2 teaspoon flour and 1 teaspoon water in a small bowl; stir with a whisk. Add to cooking liquid in pan. Bring to a boil; cook 1 minute, stirring constantly. Add stock; bring to a boil. Cook until reduced to 1 1/4 cups (about 6 minutes). Stir in 1/2 cup half-and-half. Cook 3 minutes or until thick, stirring constantly. Remove from heat; stir in parsley and chives. Serve sauce with pork chops.
per serving (1 pork chop & about 1/3 cup sauce): 399 calories, 20.5g fat, 28.8g protein, 22.1g carbs, 1.9g fiber