This Sausage Alfredo French Bread Pizza always makes me chuckle when I make it. I first made it when I lived in Birmingham with my friend Courtney. It was so good, that every time she saw the ingredients in the fridge and pantry, we had to have it for dinner that night. No question about it. I still think of her every time I make this and grin. I was also living with Courtney when my mom bought me that first cookbook magazine that started this whole obsession/love of food. Who knew that was the start of something and I'd be blogging about that pizza years later?!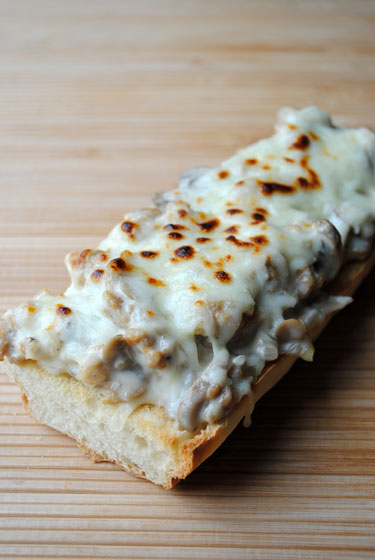 So, how's it taste?
Speaking of my mom, she greatly approves of this pizza. I told her I had recently made it and her reaction was "ooo ooo!" This is significant because my mom doesn't like just any pizza. She doesn't do pineapple or bbq chicken or any of that  kind of stuff. That isn't real pizza to her. So if she ooh's and aah's over this alfredo version…then you know it's lip-smacking good and worth a spot on your menu planner. There's not a tomato in sight. This isn't classic pizza, but I can tell you alfredo sauce does an excellent job of making you forget all about those tomatoes. The Italian sausage is the stand out, so buy the good stuff. Get hot if that's your thing. I use canned mushrooms in this recipe. I can't explain it, but I like them better than fresh for some reason. You can use fresh if you like, of course. I love how easy this comes together in a skillet and then pop it in the broiler and call it dinner. I like when the mozzarella gets those crispy spots on top. Creamy, gooey, crispy, this pizza is fantastic.
What recipe have you made for years that brings back fond memories?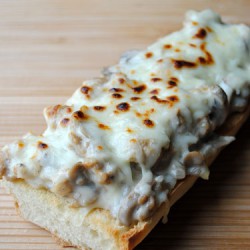 Sausage Alfredo French Bread Pizza
Ingredients:
1 lb. Italian sausage, hot or mild
1 large onion, chopped (1 cup)
8 oz. mushroom stems & pieces, drained
15 oz. alfredo sauce (I prefer Bertolli)
1 (12 in.) loaf French bread, cut horizontally in half
4 oz. shredded mozzarella
Directions:
1. Set oven to broil.
2. Cook sausage and onion in 10-inch skillet over medium-high heat until sausage is no longer pink; drain. Stir in mushrooms and alfredo sauce.
3. Cut each half of French bread so it makes 3 pieces, for a total of 6 pieces. Place bread, cut sides up, on ungreased cookie sheet. Spread each piece with sausage mixture. Sprinkle with cheese. Broil with tops 5 inches from heat 1 to 2 minutes or until pizzas are hot and cheese begins to brown.
Betty Crocker's Good & Easy Cookbook