I love macaroni and cheese so, so much. It's probably my #1 comfort food. All that gooey cheese with perfectly cooked noodles. I like homemade, I like the stuff in the blue box (spirals, please), and I even like the frozen kind. Of course, some taste better than others. The bad thing is, it's pretty much off limits when I'm trying to be good. There's a certain frozen diet brand that I really like, but let's face it, it's never going to win against homemade. You can imagine my giddiness when I stumbled across this Easy Stovetop Mac & Cheese from Cooking Light. It's low calorie, super cheesy, and a serving is quite a large size. Say what?! Yes, apparently you can have your cake, er mac and cheese, and eat it too!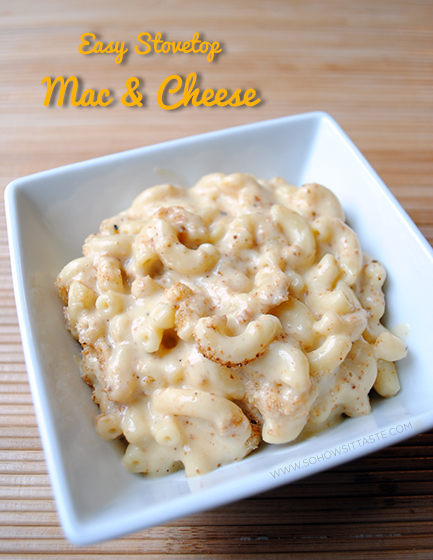 So, how's it taste?
First, I have to call out this recipe for being full of lies. Ok, maybe just one. It is an easy stovetop mac and cheese, but if I have to put it in a dish and stick it in the broiler to finish it…that's not stovetop. Now that that's out of the way! This mac and cheese is not diet food. Yes, it's low calorie, but oh my gosh you would never know. It's super cheesy and creamy, and there's a tiny hint of heat from the cayenne, which I loved. I think next time I'll even amp it up a bit. This is a great base to add other flavors as well. Bacon, greens, jalapenos…the possibilities are endless. I made mine with non-fat milk, and it was perfect. Almond milk would work well, too. I think the secret is the Velveeta. There's not much of it, but it makes it creamy. I opted for regular Velveeta instead of light because I didn't want to commit to a huge brick of it and I couldn't find the light in the smaller size. The sharp Cheddar gives it that homemade, real mac and cheese flavor. Don't be tempted to buy the reduced-fat Cheddar. It's just not the same. You can see flecks of the breadcrumbs in my picture above. I'd recommend skipping them and the broiler step altogether, making this a true stovetop mac and cheese. It was way too much, and I didn't even use the full amount. They don't add anything to the recipe (except calories), so why bother dirtying up another dish just to have them?
I can't wait to make this again! Maybe I should've bought the bigger Velveeta because I have a feeling this is going to be a weekly occurrence in my kitchen! Stay tuned for a post next week of a lovely, low-calorie dish that I ate with this. The two together made one awesome healthy meal!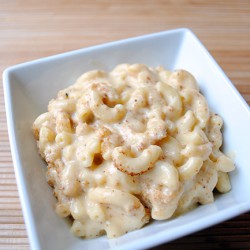 Yield: 4 servings
Total Time: 30 min
Easy Stovetop Mac & Cheese
Ingredients:
8 oz. large elbow macaroni
2 cups low-fat milk (non-fat or almond milk is fine)
3 tbsp. all-purpose flour
1/2 tsp. black pepper
Dash of ground red pepper
3 oz. light processed cheese, shredded or cubed (such as Velveeta Light)
2/3 cupextra-sharp cheddar cheese, shredded
1/4 tsp kosher salt
Cooking spray
1/4 cup fresh breadcrumbs
Directions:
1. Preheat broiler to high.
2. Cook pasta according to package directions; drain.
3. While pasta cooks, combine milk, flour, and peppers in a large saucepan, stirring with a whisk. Bring to a boil; cook for 4 minutes or until thick. Remove from heat. Add cheeses and salt; stir until smooth. Add pasta, and stir to coat. Spoon mixture into a 1 1/2-quart glass or ceramic baking dish coated with cooking spray. Sprinkle breadcrumbs evenly over top; broil 2 minutes or until browned.
per serving (about 1 1/4 cups): 406 calories, 10.2g fat, 20.6g protein, 58.1g carbs, 2.1g fiber