When I think of pesto, I think of the traditional version with basil (or another kind of herb like this mint version). It never dawned on me that you can really make all kinds of pesto…like broccoli pesto! This was so new to me that I had to try Pasta & White Beans with Broccoli Pesto. Anything with white beans makes my ears perk up, so I was excited to taste how this interesting combination would come together.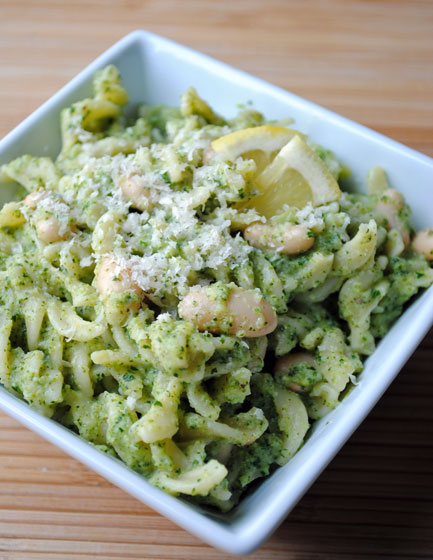 So, how's it taste?
It was really good! It's great for a meal when you want something filling, but not heavy. The broccoli pesto had a lot of flavor, which surprised me. I like broccoli, but compared to an herb in pesto, I wasn't expecting much. It made a great base and plays well with the Parmesan, lemon, garlic, and parsley. The color is beautiful. I loved the pale green, with flecks of dark green. Be sure you save the two cups of cooking water. I used almost all of it making the sauce creamy. It really soaks it up!
The leftovers were ok, but kind of boring compared to how good it tasted fresh. I took a cue from how I used my mint pesto and added turkey meatballs. You can make your own or for a really quick meal, use frozen. That extra boost of flavor from the meatballs really jazzed up the leftovers. They went from boring to me not being able to get enough of it. It makes the dish really hearty, but you'll eat less per serving and it'll stretch the recipe! Budget bonus!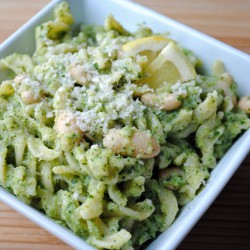 Pasta & White Beans with Broccoli Pesto
Ingredients:
1 bunch broccoli, cut into 1-inch pieces (about 4 cups)
10 oz. short pasta, such as fusilli
5 tsp. extra-virgin olive oil
1/2 oz. Parmesan, finely grated (1/4 cup), plus more for serving (optional)
1 tsp. finely grated lemon zest, plus 1 tablespoon lemon juice
1/2 cup packed fresh parsley leaves
1/2 small garlic clove
1 can (15.5 oz.) cannellini beans, rinsed & drained
Coarse salt and ground pepper
Directions:
1. In a large pot of boiling salted water, cook broccoli until tender and bright green, about 4 minutes. With a slotted spoon, transfer broccoli to a food processor. Return water to a boil and cook pasta according to package instructions. Reserve 2 cups pasta water; drain pasta and return to pot.
2. To food processor, add oil, Parmesan, lemon zest and juice, parsley, and garlic. Puree until smooth, about 2 minutes, scraping down side as needed. Transfer pesto to pot with pasta. Stir to coat, adding enough reserved pasta water to make a creamy sauce. Stir in beans and heat over medium until warmed through. Season with salt and pepper. To serve, sprinkle with Parmesan, if desired.