I'm getting so good at taking the ugliest pictures of food that I almost don't want to learn how to do it right. Ok, that's not true in the least, but it makes me feel better when I post gems like what you see below. Meat is a hard subject to make look pretty for the camera, so I gave up before I got started, but Steakhouse Steaks are too damn good to not have a home on my blog. I was introduced to making awesome filets years ago from an ex-boyfriend and then finally decided to cook them myself after seeing Ina Garten make them on her Food Network show. They are fantastic and rival any you'd find at a nice steakhouse.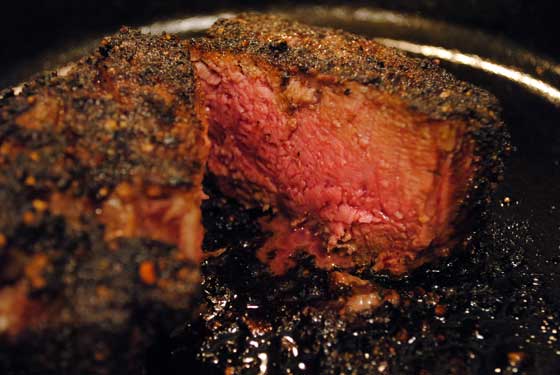 So, how's it taste?
There's just no better way to eat a steak, especially a nice filet. The ex-boyfriend sure could cook (he made killer chicken salad, too) and he's the first person who told me about Char Crust. It's a dry rub and it comes in several varieties and it's the bee's knees. For the steaks, it's best to use the Roasted Garlic Peppercorn variety. The secret of the rub is the bit of sugar in it. I don't know the science behind it, but it makes all the difference. So if you want to mix your own dry rub, just make sure there's some sugar involved. The next secret to great steaks is a cast iron skillet. Don't make this recipe without it. Go out and buy yourself a Lodge if you don't own one.
When I pick out a filet, I like them thick…around 2 inches. You won't find it cut that way at chain grocery stores, so you may have to get your butcher to cut them special for you. Searing the steaks on all sides in a really hot skillet seals in all those glorious juices and the Char Crust gives a huge boost of flavor over using only salt and pepper. What's nice about the Char Crust is it doesn't steal the show from the filet. It really does form a thin crust that's slightly crunchy and leaves the inside tender and amazingly juicy. The pat of butter takes it a touch over the top with a hint of richness. You'll be really impatient when you smell the filet cooking, but it's important to let it rest before you cut into it. You don't want all those juices leaving too early!
In my next post, I'll give you a recipe for the world's best onions to serve on top of this steak. It's a meal you'll think about constantly from the first bite!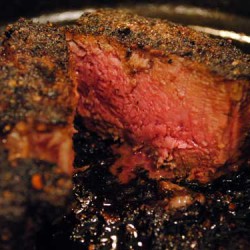 Steakhouse Steaks
Directions:
1. Preheat the oven to 400F. Heat a large, well-seasoned cast iron skillet over high heat until very hot, 5 to 7 minutes.
2. Pat the steaks dry with a paper towel and brush with vegetable oil. Pour some Char Crust on a plate and roll the steaks in the mixture, pressing lightly to evenly coat all sides. You won't use the entire pack of Char Crust, so pour a little on the plate at a time. You'll need to throw away what's leftover on the plate since it's touched raw meat.
3. Add the steaks to the skillet and sear evenly on all sides for about 2 minutes per side, for a total of 10 minutes. Use tongs to help you turn and hold the steaks.
4. Top each steak with a tablespoon of butter and place the skillet in the oven. Cook the steaks until they reach 125F for rare, 130F for medium-rare, or 140F for medium on an instant-read thermometer. (To test the steaks, insert the thermometer sideways to be sure you're actually testing the middle of the steak.)
5. Move the steaks to a serving platter, cover tightly with aluminum foil and allow to rest at room temperature for 10 minutes.