How cute are these?! Yes, I'm referring to food as cute…wouldn't be the first time. Personal Pizza-Stuffed Meat Loaves are so easy to prepare and the individual servings are perfect to pack for leftovers. So much flavor in one little loaf and inside is a savory surprise. You can see from my picture below that I'm not so good at sealing the patties, but luckily none of my filling oozed out. These were great to take to work the next day for lunch and I paired them with vegetables to make a quick, tasty meal.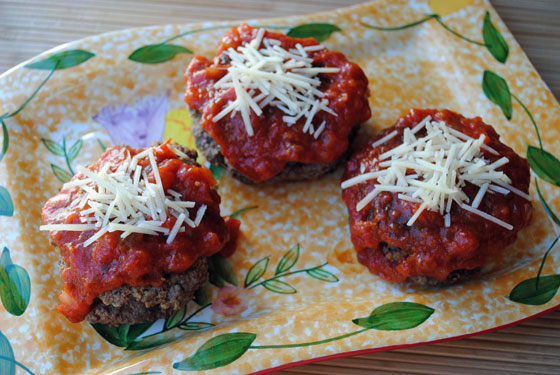 So, how's it taste?
Hello flavor! They really taste like a cross between meat loaf and pizza. If olives aren't your thing, I'm sure you could add any topping you'd like. Pepperoni chunks, mushrooms, the possibilities are endless. I licked my plate clean on these. The Italian seasoning and garlic give a big punch of flavor, plus the filling inside is bursting with tomato sauce and salty olives. I added onion to my tomato sauce on top so it was chunky and it worked great. It's like getting a pizza, a meat loaf, and a hamburger all in one. Oh, and guess what? It's only 250 calories! I ate mine with a serving of green beans. All that was missing was some mashed potatoes! I bet some cauliflower mashed "potatoes" would be delicious as a side, too!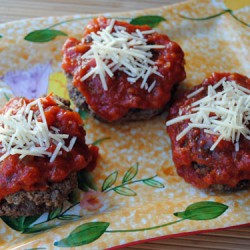 Personal Pizza-Stuffed Meat Loaves
Ingredients:
1 1/2 lb. extra-lean (at least 90%) ground beef
1 cup fresh bread crumbs
1 tbsp. milk
1 tsp. pizza or Italian seasoning
1/2 tsp. salt
2 cloves garlic, minced
1/2 cup pizza sauce
1/3 cup finely chopped onion (1 small)
1/3 cup chopped pitted ripe olives
6 tbsp. shredded Parmesan
Directions:
1. In large bowl, mix ground beef, bread crumbs, milk, pizza/Italian seasoning, salt, and garlic. Shape mixture into 12 (4-inch) sausage-shaped rolls. Flatten each to 1/4-inch thickness to form patties.
2. In medium bowl, mix 1/4 cup of the pizza sauce, onion, and olives. Spoon about 1 tablespoon mixture evenly onto 6 patties, spreading to within 1/2 inch of edges. Top with remaining patties; pinch edges to seal to prevent filling from coming out while cooking.
3. Heat a large skillet on medium. Place meat loaves in skillet. Work in batches if you can't fit all six at once. Cook on medium heat for about 5 minutes. Flip patties over and cover skillet. Cook for about 5 more minutes, or until thermometer inserted in meat loaves reads 160°F (avoid inserting in filling). Top meat loaves with remaining 1/4 cup pizza sauce and top each with 1 tablespoon Parmesan; cook 1 minute longer or until cheese is melted.