Mmmm, mmmm! I was looking for a new dish that didn't have the usual ground beef, ground turkey, or chicken. I came across this recipe for Onion-Topped Sausage and Potato Dinner. Quick-to-fix is no joke. I didn't have to do much more than chop the sausage and a little mixing.
So, how's it taste?
I'm pretty sure after the first bite I said, "Man, this dish is savory!" It is so flavorful, mostly from the sausage and French fried onions. I almost left out the onions thinking I'd save on some calories, but they sure do help to add flavor. Strange thing is with a meat and potatoes dish, you'd think it would be very filling. I found myself still hungry after eating a regular portion.
It calls for cream of potato soup or cream of celery soup (which I never use because celery is pretty revolting). I think next time I'd like to try cream of mushroom soup. Just because this dish already has the chunks of red potatoes, it's weird to have mini chunks of potatoes from the soup as well.
I also didn't know you could purchase flavored sour cream. This recipe includes chive-and-onion sour cream, but tells you how to make your own if you only have regular. I didn't think to use a french onion dip for this. That would probably make this dish even more flavorful!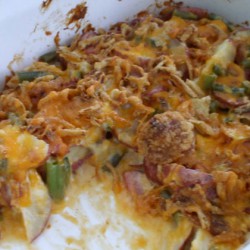 Onion-Topped Sausage & Potato Dinner
Ingredients:
1 can (10 3/4 oz. size) condensed cream of potato or cream of celery soup
1/2 cup chive and onion sour cream
1 1/4 cup shredded cheddar cheese
1 bag (1 lb. 4 oz. size) refrigerated cooked new potato wedges
1 cup frozen cut green beans, thawed, drained
8 oz. fully cooked smoked Polish sausage, sliced
1 cup French fried onions
Directions:
1. Heat oven to 350. Spray 11x7" glass baking dish or 2 qt. casserole with cooking spray.
2. In large bowl, mix soup, sour cream and 1 cup of the cheese. Stir in potatoes, green beans and sausage. Spoon into baking dish. Cover baking dish with foil or cover casserole with lid.
3. Bake 45 to 55 minutes or until bubbly around edges and potatoes are tender. Sprinkle with onions and remaining cheese. Bake uncovered 10 to 15 minutes longer or until onions are golden brown.