Quick Fix Lasagna doesn't require boiling the noodles first, nor does it require special no-boil noodles. How in the world do the noodles get tender?! I think it's from the sauce being a little on the saucy side. Using cottage cheese instead of ricotta leaves more moisture in the dish, also. Whatever the science behind it, it works. It tastes pretty good, too. With a few lower fat/fat-free substitutions, I could eat a slice of this yummy lasagna with a salad and not blow my diet.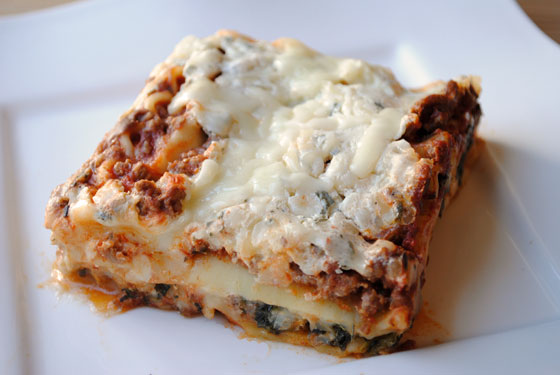 So, how's it taste?
I thought this dish would be too simple to be good. You may remember the elaborate lasagna I made not too long ago. That was tasty lasagna, but so labor intensive. This lasagna is the exact opposite as far as labor goes. I didn't have faith in it and thought the noodles wouldn't be done. Luckily I was wrong. I cooked my lasagna for 1 hour and 10 minutes. I poked a fork into it to test the noodles. They were done, but I felt like I should have cooked the lasagna for a minute or two more.
The taste was beyond my expectations. I like lasagna using ricotta and I like it with cottage cheese. I do think the cottage cheese makes it feel not as heavy. The texture change is nice as sometimes I get sick of ricotta's gritty feel. I used chunky tomato sauce with mushrooms, so I had an added bonus of chunks of mushroom along with all the cheese and spinach. This lasagna was loaded with cheese, which will always get a thumbs up from me. I almost mixed the spinach in with the cheese mixture and not that it would have made a huge difference, but I think I will next time.
What's odd about this lasagna is the noodles continue to get softer. On the next day, the noodles were perfect. The day after that, a little too soft. To counteract that, I put the rest of my leftovers in the freezer. When I thawed a piece, it was back to perfect. So if you aren't serving a crowd, I'd freeze the leftovers on day two. One last note, the serving size is kind of small, which explains the low calorie count. Slice them bigger if you prefer.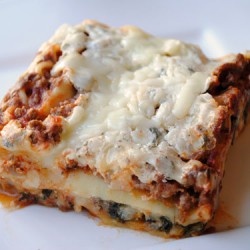 Quick Fix Lasagna
Ingredients:
1 lb. lean (at least 80%) ground beef
1 jar (24 oz.) chunky tomato pasta sauce
1/4 cup water
1 box (10 oz.) frozen chopped spinach
2 eggs
1 container (24 oz.) fat-free cottage cheese
1/2 cup grated Parmesan cheese
1 tbsp. parsley flakes
8 uncooked lasagna noodles
2 cups reduced-fat shredded mozzarella cheese (8 oz.)
Directions:
1. Heat oven to 350°F. Spray 13x9-inch (3-quart) baking dish with cooking spray. In 12-inch skillet, cook ground beef over medium-high heat, stirring frequently, until thoroughly cooked. Drain.
2. Reduce heat to low. Stir in pasta sauce and water. Cook until thoroughly heated.
3. Meanwhile, thaw spinach as directed on box; squeeze to drain well. In large bowl, beat eggs. Add cottage cheese, Parmesan cheese, and parsley flakes; mix well.
4. Spoon 1 cup beef sauce into baking dish. Arrange 4 lasagna noodles over sauce, breaking to fit if necessary. Spoon half of remaining sauce over noodles. Top with all of spinach. Evenly spoon half of cottage cheese mixture over spinach. Top with 1 1/2 cups of the mozzarella cheese. Repeat layers of noodles, beef sauce, and cottage cheese mixture. Cover tightly with foil.
5. Bake 1 hour 5 minutes to 1 hour 15 minutes or until hot, bubbly, and lasagna noodles are tender. Uncover; sprinkle with remaining 1/2 cup mozzarella cheese. Bake 5 minutes longer or until cheese is melted. Let stand 15 minutes before serving.