This Italian Fettuccine Pie is quite interesting. Cheese, tomatoes, beef, and a crust made out of fettuccine and mozzarella. Know what else? A slice is only 350 calories. Usually when I'm on the prowl for new recipes that are figure-friendly, pasta and cheese and beef do not land on my list. It sounded good and I was curious about the noodle crust.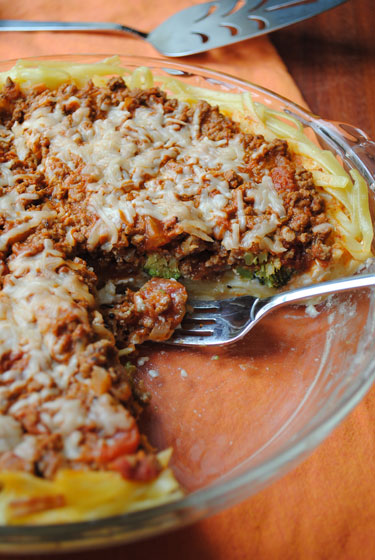 So, how's it taste?
It's good! It's kind of like a cross between spaghetti and lasagna. The meat sauce is on top and has chunks of stewed tomatoes and Italian seasoning. I used stewed tomatoes already seasoned, but still added the Italian seasoning for extra flavor. I think instead of using stewed tomatoes, diced tomatoes would work better. I ended up cutting the stewed tomatoes and buying them diced would have saved me some time. Underneath the meat sauce was a layer of cottage cheese and broccoli. Sounds weird to have broccoli in the mix of all this, but it works. The cottage cheese is creamy and light, but the broccoli adds a nice crunch to the dish…plus a touch of green veggies never hurts. Now on to the crust! I loved it. It was easier to assemble than I thought. Cook the fettuccine and add mozzarella and an egg to bind. The mozzarella doesn't blend perfectly, but you end up with chunks of mozzarella throughout the crust that I really liked. I left an "edge" on my crust so you could see the noodles on top, but I don't recommend doing that. It makes for a pretty presentation, but some of the exposed noodles got crunchy and not in a good way. Next time I'll spread the meat mixture entirely over the top.
This is one of those dishes that gets better the next day. When you slice it the first time after baking, it's a bit runny from the tomato beef mixture. The next day, after a night in the fridge, it really sets up and comes together nicely. I'm excited about the leftovers from this one!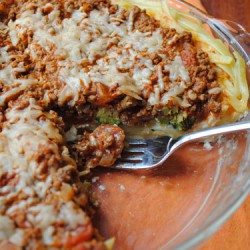 Italian Fettuccine Pie
Ingredients:
1/2 lb. lean (at least 80%) ground beef
1 small onion, finely chopped (1/4 cup)
1 can (8 oz.) stewed tomatoes or diced tomatoes, undrained
1 can (8 oz.) tomato sauce
1/2 tsp. Italian seasoning
6 oz. uncooked fettuccine
2 eggs
1 tbsp. butter, melted
1 cup shredded mozzarella cheese (4 oz.)
1 cup small-curd cottage cheese
1 cup frozen broccoli florets, thawed, or chopped fresh broccoli
1/4 cup grated Parmesan cheese
Directions:
1. Heat oven to 350°F. In 10-inch skillet, cook beef and onion over medium heat, stirring occasionally, until beef is brown; drain. Stir in tomatoes, tomato sauce, and Italian seasoning. Heat to boiling, stirring occasionally. Reduce heat. Cover; simmer 10 minutes, stirring occasionally.
2. Meanwhile, cook and drain fettuccine as directed on package.
3. In medium bowl, beat one of the eggs and the butter. Stir in fettuccine and mozzarella cheese. In ungreased 9-inch quiche dish or pie plate, spoon and press mixture evenly in bottom and up side of dish. The trick to this is get another pie plate or a large bowl and press it into the crust. It shapes it for you and presses it up the sides. Leave it on for a few minutes to set.
4. In small bowl, mix cottage cheese and remaining egg; spread over fettuccine mixture in dish. Sprinkle with broccoli. Spoon beef mixture evenly over top. Sprinkle with Parmesan cheese.
5. Bake uncovered about 30 minutes or until hot in center. Let stand 10 minutes before cutting.