I love salads, but I must admit when I make them, they're just a hodge-podge of whatever's in my fridge. They're good, but I can't ever come up with that magical combination of ingredients to make a really really good one. Enter Turkey Pear Salad. When I saw turkey, pears, and walnuts covered in a creamy dressing, I was sold!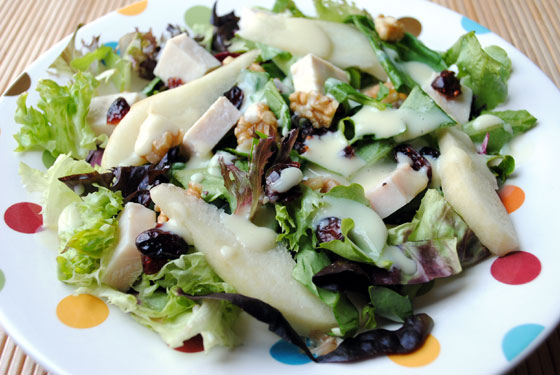 So, how's it taste?
I really enjoyed the flavor and texture combination in this salad. The turkey was slightly salty, the pears were crisp with a hint of sweet, and the walnuts brought a nice crunch and nutty flavor. I thought I wasn't a fan of pears, but I was wrong! Fresh pears are so delicious, and so different from the nasty canned ones. I can't believe how much I liked them, especially in a salad. I sprinkled in a little dried cranberry, too. The homemade dressing was so-so. It went well with the salad, but didn't have a big punch of flavor that I look for in a dressing. I like the taste of mayo, but many people don't and this dressing has a prominent citrusy-mayo flavor. But I have a solution! I discovered Fat-Free Raspberry Pecan from Ken's Salad Dressing and it is ah-may-zing! Wonderfully fresh raspberry flavor and a little goes a long way. Perfect with this Turkey Pear Salad and pretty much any salad.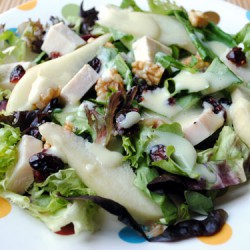 Turkey Pear Salad
Ingredients:
1/2 cup buttermilk
2 tbsp. low-fat mayonnaise
1 tbsp. frozen apple or orange juice concentrate, thawed
1 tsp. Dijon mustard
6 cups torn mixed salad greens
2 medium pears, sliced
8 oz. cooked turkey, cut into cubes or strips
1/4 cup broken walnuts, toasted (optional)
Directions:
1. For the dressing, stir together buttermilk, mayonnaise, juice concentrate, and mustard in a small bowl.
2. In a salad bowl, combine salad greens, pears, and turkey. Drizzle with dressing; toss to coat. Sprinkle with walnuts, if desired.