I can barely contain myself with my excitement to share this recipe with you! Now I know Cheeseburger Pie sounds crazy, but stick with me. Let's not forget that I brought you Taco Spaghetti and that's been one of my top recipes on the blog. So trust me when I tell you this pie is drool-worthy. I have looked forward to every single slice. It's fantastic out of the oven, but the leftovers get better and better. And yes, it REALLY tastes like a cheeseburger, minus all those pesky calories. You can taste the mustard and ketchup, plus those glorious pickles and tomatoes on top, and tons of cheese. This is comfort food at its best with no guilt. Now that's a burger I can sink my teeth in!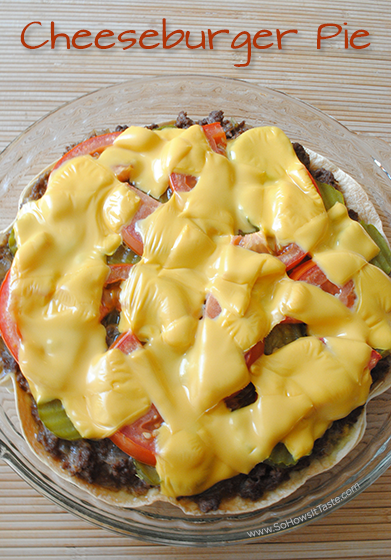 So, how's it taste?
This turned out way better than I thought. One of the first recipes I ever posted was a different cheeseburger pie and it wasn't that great. I'd had cheeseburger pie as a kid and it just didn't taste like I remembered. Fast forward almost five years later and I've finally got a recipe I love! The secret to the low calorie part is the crust. It's two flour tortillas with reduced-fat (or in my case fat-free) American cheese. Yep, there's cheese on the top and in the crust! The beef mixture is lean ground beef cooked with fresh onions and garlic. Then Worcestershire, yellow mustard, and ketchup get stirred in. The Worcestershire gives it that burger-y flavor, and just that little bit of mustard and ketchup make it taste like a cheeseburger with toppings. You can really distinguish the mustard and the ketchup. The pie gets topped with pickle and tomato slices, and finally cheese. I know it sounds weird, but it's just like eating a cheeseburger. I add more pickles to my slices for more crunch. If pickles and tomatoes aren't your thing, leave them off.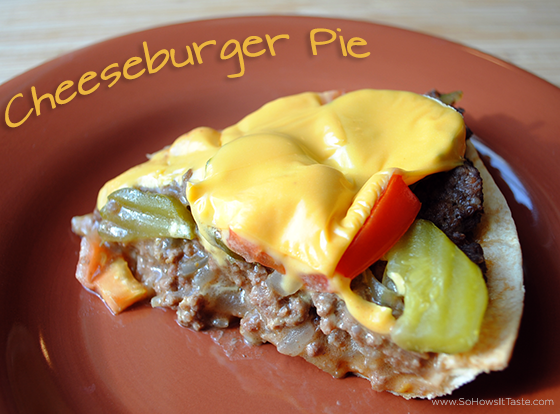 I used Borden fat-free American cheese slices. It's my go-to fat-free cheese because it tastes really, really good. You could also buy your cheese as a block and shred it instead. It might make it a little prettier. 😉 My mom got to eat a slice and she kept commenting that it couldn't be low calorie. It is! Changing up the crust takes it from over 600 calories to a measly 270 calories per slice. If you use fat-free cheese like it did, it's a bit lower. I actually like the tortilla crust better than pie or crescent roll crust. It gets baked alone first so it's nice and crispy. I need to try this crust with other savory pies like quiche!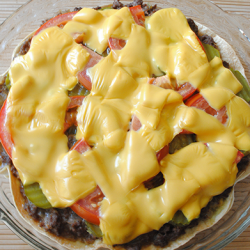 Cheeseburger Pie
Ingredients:
2 (10 inch) flour tortillas
Cooking spray
1 cup reduced-fat American cheese, shredded, divided*
1 tsp. olive oil
1 onion, chopped fine
2 garlic cloves, minced
1 lb. 93% lean ground beef
3 tbsp. all-purpose flour
3/4 cup low-sodium chicken broth (I use regular)
2 tbsp. ketchup
2 tsp. Worcestershire sauce
1 tsp. yellow mustard
Salt and pepper
1/3 cup pickle slices
1 tomato, cored, seeded, and sliced thin
*I couldn't find reduced-fat American cheese in block form or shredded, so I used fat-free American slices. Borden makes really tasty fat-free American slices, so I highly recommend that brand. I tore 2 slices of cheese and arranged the pieces between the two tortillas. For the topping, I tore 5 slices of cheese and arranged them.
Directions:
1. Adjust oven rack to middle position and heat oven to 400F. Spray 9-inch pie plate with cooking spray. Press one tortilla  into pie plate, sprinkle with 1/4 cup cheese. Lay remaining tortilla on top and press into dish. Spray lightly with cooking spray. Bake until lightly golden and crisp, 10 to 12 minutes, pressing center flat as needed. Let cool slightly.
2. Meanwhile, heat oil in 12-inch nonstick skillet over medium heat. Add onion, cover, and cook until softened and lightly browned, about 5 minutes. Uncover, stir in garlic and cook until fragrant, about 1 minute. Stir in ground beef and cook, breaking up meat with wooden spoon, until almost cooked through but still slightly pink, about 5 minutes. Stir in flour and cook for 1 minute.
3. Gradually stir in broth, ketchup, Worcestershire, and mustard. Bring to a simmer over medium-low heat and cook, stirring occasionally, until thickened, 3 to 5 minutes. Season with salt and pepper to taste.
4. Transfer mixture to pie plate and top with pickles, tomato, and remaining cheese. Bake until cheese is melted and edges are browned, 10 to 12 minutes. Let cool slightly before serving.
per serving: 270 calories, 12g fat, 15g carbs, 22g protein, 1g fiber