I was so excited about making this Impossibly Easy Cheeseburger Pie. My mother has made this for me before and I remember it being very good. And the recipe couldn't be easier. Very few ingredients. Cook the beef, mix, and pour into a pie plate.
I pre-cooked the ground beef so this was truly impossibly easy to make!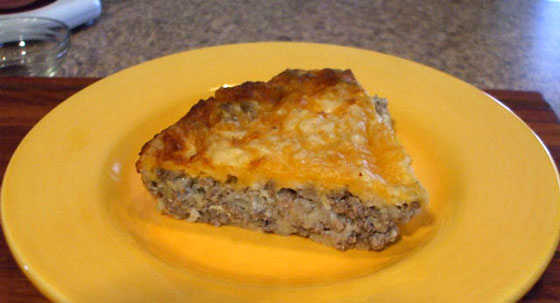 So, how's it taste?
I actually wasn't too impressed. I remember this tasting really good, but it was just so-so for me this time. I didn't like how the cheese stays on the top. Sometimes I'd get a mouthful of just the beef part and sometimes just the cheese. I wanted this to be more quiche-like with the eggs and Bisquick mixture, but it was very mushy. It reminded me of eating Shepherd's Pie instead, minus the veggies. The flavor seemed to diminish the next day when I reheated it. I even added a touch of ground red pepper to zip it up a notch.
There is a note in the recipe to add extra zip. You could stir in barbecue sauce into the beef mixture. I may try that next time. I think I would make it again, adding more flavorings, since it is so easy to make. I put a little barbecue on the side the next few times I ate the leftovers. It did help.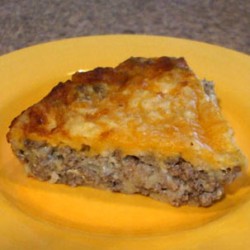 Impossibly Easy Cheeseburger Pie
Ingredients:
1 lb. lean (at least 80%) ground beef
1 large onion, chopped (1 cup)
1/2 tsp. salt
1 cup shredded Cheddar cheese (4 oz)
1/2 cup Original Bisquick® mix
1 cup milk
2 eggs
Directions:
1. Heat oven to 400°F. Spray 9-inch glass pie plate with cooking spray.
2. In 10-inch skillet, cook beef and onion over medium heat 8 to 10 minutes, stirring occasionally, until beef is brown; drain. Stir in salt. Spread in pie plate. Sprinkle with cheese.
3. In small bowl, stir remaining ingredients with fork or wire whisk until blended. Pour into pie plate.
4. Bake about 25 minutes or until knife inserted in center comes out clean.