I hope you take a moment to read about these Stuffed Potatoes with Roasted Veggies. I know from the picture they look like ordinary baked potatoes. Who cares right? You'd be missing out though! A few posts back I told you that I'm trying to like bell peppers more. When I saw this recipe, I decided to leave the bell peppers in and see how I liked them in the slow cooker. Normally I'd skip them and not think twice about it. You see I love the way they smell and their flavor, but the texture weirds me out. Texture problem solved in the slow cooker, right?!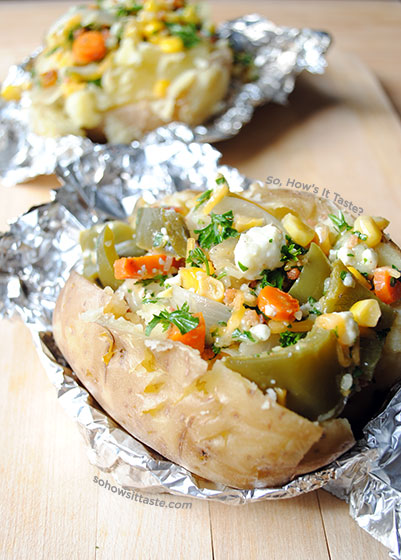 So, how's it taste?
Oh my gawd, y'all. These are some serious baked potatoes packed with flavor. It's a bit unusual I think to stuff potatoes with other veggies, but broccoli and cheese seem to work. I happen to love, love, love roasted veggies. Plus I was completely sold on the two cheeses, especially blue cheese. Low-fat blue cheese is a great addition for a huge punch of flavor, but not as many calories. I also have a weak spot for fresh parsley. I put in way more than the recipe calls for and it was still amazing. Slow cooking everything makes it really easy to make. I cooked mine on low for 6 hours. I don't think cooking them on high for 3 hours would work as well. I did find that the corn was a bit gummy and a few of the veggies that were touching the sides of the slow cooker were scorched, so I think that would be a bigger problem on high. Even with the gummy corn, it was still delicious. Buttery, tender potatoes topped with gooey cheese and big chunks of veggies. I loved the bell peppers in this. Yep, loved them! I also liked that the onions were cut into wedges. Kept them from disappearing completely when cooked. The small bit of cayenne adds a warmth, but not enough spice to blow your mouth up. These potatoes are insanely good!
So good that I made them again immediately when this batch ran out! This time I made them using the roasting method and skipped the slow cooker. This method is faster and I had better results with the corn, too. It only takes an hour to roast everything and the veggies are still the same texture as if you'd made them in the slow cooker. The corn wasn't as gummy and I had a few pieces that were crunchy! I think for best results, you might want to heat the corn separately and toss it in together after.
I loved these potatoes! Very filling and under 300 calories! Of course, a 6-ounce potato isn't very big, but it wouldn't be splurging that much to bake a bigger potato and use this topping. Treat yo'self!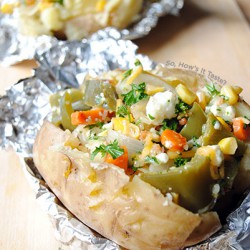 Stuffed Potatoes with Roasted Veggies
Ingredients:
1 green bell pepper, cut into 1-inch pieces
1 yellow onion, cut into 8 wedges
1 cup frozen corn kernels
1 carrot, thinly sliced
1/8 tsp. cayenne
1 tbsp. canola oil (or whatever oil you like)
4 (6 oz.) Yukon gold potatoes, scrubbed well
1/4 cup fresh parsley, chopped
1 clove garlic, minced
1/8 tsp. salt
1/4 tsp. freshly ground black pepper
1/2 cup shredded low-fat sharp cheddar cheese
1/4 cup crumbled low-fat blue cheese
Directions:
1. Coat a 6 quart slow cooker with cooking spray. Add bell pepper, onion, corn, carrot, cayenne and oil; stir to combine. Using a fork, pierce each potato in several spots, then wrap in foil and place on top of the pepper/corn mixture. Cover and cook until potatoes are tender when pierced with a fork, 3 hours on high or 6 hours on low. (I recommend low or you can use the roasting method.*)
2. Remove potatoes and set aside for 10 minutes. In a medium bowl, add parsley, garlic, salt, black pepper, cheddar cheese, and blue cheese. Stir to combine. Add the pepper/corn mixture from the slow cooker and stir until mixed together.
3. Remove potatoes from foil and cut each in half lengthwise. Careful, as the potatoes are still hot! Fluff flesh with a fork and top with vegetable mixture, dividing evenly. Serve immediately. To store, I keep the topping and potatoes in separate containers in the fridge. Reheat leftovers in microwave.
*Alternate Roasting Directions
1. Preheat oven to 400F. Add bell pepper, onion, corn, carrot, cayenne and oil to a baking sheet with sides. Mix with your hands to evenly coat all the vegetables. Using a fork, pierce each potato in several spots. At this point you can cover each potato in foil, or rub each potato lightly with oil. Place potatoes on another baking sheet. Place both baking sheets with the vegetable mixture and potatoes in the oven and bake for about 1 hour; stirring the vegetables after 30 minutes. Check your potatoes with a fork for tenderness. Larger potatoes will need to bake longer.
2. Follow the rest of the directions above, starting with #2.