This Roast Beef Sandwich with Horseradish Slaw has rekindled my love for sandwiches. Not that it ever really went away, but I can get stuck in a rut with sandwiches and there are only so many plain ham and cheeses a girl can eat. I seem to forget about roast beef as an option and stick with ham or turkey, but this sandwich caught my eye because of the slaw.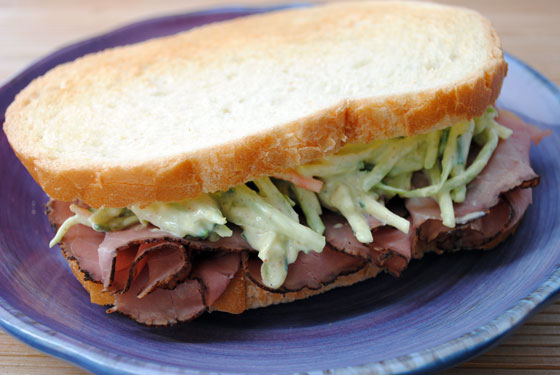 So, how's it taste?
Roast beef is meant to be eaten with horseradish. It's like wasabi with sushi. Even though it clears out my sinuses, I love the spicy heat. I've never given broccoli slaw a second look until now. I hate broccoli stems and that's all broccoli slaw seems like to me. Why would I purposely buy broccoli stem twigs? The dressing for the slaw convinced me to forge ahead. It's a sour cream base instead of mayonnaise, so it's lightened up tremendously flavor-wise and calorie-wise. Fresh chives, spicy mustard, and horseradish provide a yummy kick to the sandwich. It's anything but boring with all that going on. I loved the crunch of the broccoli slaw. It's like putting chips on a sandwich, tell me I'm not the only one who does that! It doesn't even need cheese! (Which is usually unheard of in my book with a sandwich.)
Even better, this sandwich is very portable. Pack the bread, roast beef, and already mixed slaw separately. Toast the bread, add the meat and the slaw, and that's it! It's a delicious, filling sandwich I can easily take to work. I liked it so much that I've made it for dinner, even after eating one for lunch. Now that's a good sandwich!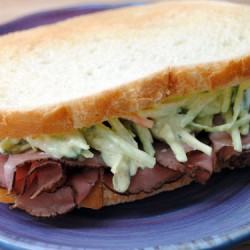 Roast Beef Sandwich with Horseradish Slaw
Ingredients:
1/3 cup light dairy sour cream
2 tbsp. snipped fresh chives
2 tbsp. spicy brown mustard
1 tsp. prepared horseradish
1/2 tsp. sugar
1/4 tsp. salt
1 cup packaged broccoli slaw mix
8 oz. thinly sliced cooked roast beef
8 1/2-inch thick slices sourdough bread, toasted
Directions:
1. Combine sour cream, chives, brown mustard, horseradish, sugar, and salt in a medium bowl. Add broccoli slaw; toss to coat.
2. Assemble by dividing roast beef among 4 of the bread slices. Top with broccoli slaw mixture. Top with remaining bread slices.