I really lucked out finding this Shrimp & Feta Rotini recipe. It's perfect for a light meal in these Spring (er, Summer if you're in Nashville) temperatures. Other than the shrimp and feta, you probably have most of the ingredients on hand. Make the simple sauce from scratch, toss in shrimp, pasta, basil, and olives…that's it!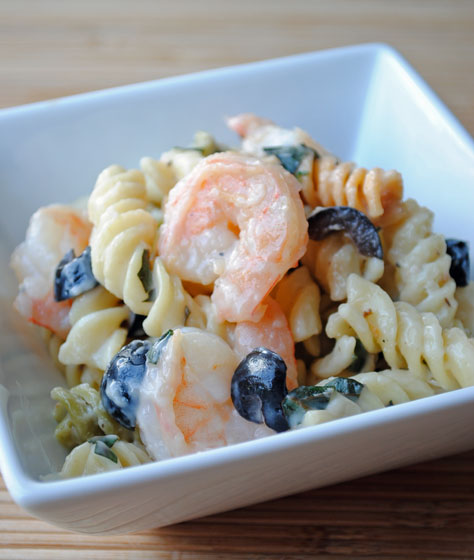 So, how's it taste?
It's incredible! I was in the middle of a busy baking and cleaning day and realized I was starving. I didn't notice the time and it was way past lunch. I was glad I had planned on making this pasta dish because it took no time to whip together, even though the sauce is homemade. It's basically a roux amped up with garlic and herb feta. The feta added great flavor and there's more garlic cooked with the shrimp, but it's not overpowering. It's a subtle herby, tangy taste. The sauce is creamy and light, so you really enjoy the shrimp and pasta because it's not swimming in it. Don't skip the fresh basil. It brightens the dish and adds wonderful specks of green. The olives are optional, but I really liked them. They added a little bit of zing!
Shrimp & Feta Rotini
Ingredients:
2 cups (6 oz.) uncooked rotini pasta
1 tbsp. butter
1 cup skim milk
1 tbsp. all-purpose flour
1/4 tsp. salt
1/8 tsp. pepper
1/4 cup crumbled garlic & herb feta
1 lb. uncooked shrimp, peeled & deveined
3 cloves garlic, minced
1/4 cup thinly sliced fresh basil
12 Kalamata or black olives
Directions:
1. Cook and drain pasta as directed on package.
2. While pasta is cooking, spray 10-inch nonstick skillet with cooking spray; heat over medium-high heat. Cook shrimp and garlic in skillet about 3 minutes, stirring frequently, just until shrimp are pink and firm. Remove from skillet and keep warm.
3. In same skillet, heat butter over medium heat until melted and bubbly. Shake milk, flour, salt, and pepper in a tightly covered container. Gradually stir mixture into butter. Heat to boiling, stirring constantly. Boil and stir 1 minute more. Stir in cheese until melted.
4. Toss pasta, shrimp, and basil into the cheese mixture. Sprinkle with olives.