Ok, let's get the fact that this picture is horrible out of the way first. Meat is not photogenic, at least not when the camera is in my hands. Plus, this was actually our Thanksgiving dinner main course, so I didn't have a lot of time to fuss over the photo. So don't let the photo turn you off of this Balsamic Braised Pot Roast. It is phenomenal and insanely easy to make. It takes traditional pot roast and spins it on its heels. I like that it cooks for a few hours so it leaves you plenty of time to prep other dishes you may be serving.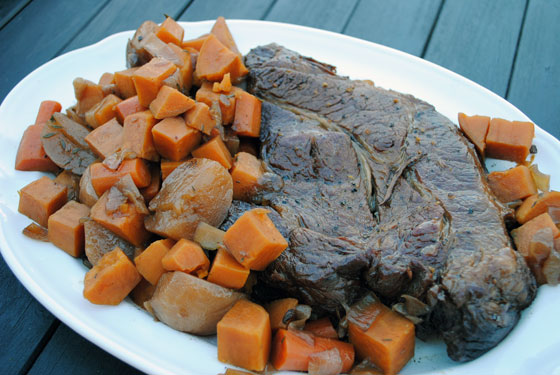 So, how's it taste?
I thought it was fantastic. It's not going to win any beauty awards, but it surely would in the flavor department. The vegetables end up being all one color, so serving this main course with a side of something green works best. (Try my Dill & Chive Peas!) This was my first time cooking with turnips and I loved them. Such a unique flavor that was only enhanced by the balsamic. The carrots and sweet potatoes were a nice sweet to the turnips. Now on to the beef. Holy cow was it delicious! The balsamic, the red wine, the beef broth, all those vegetables and herbs…it was perfection. The balsamic really adds a special touch. Almost sweet, a tad bit tangy, it was awesome. The meat was so incredibly tender. Sliced with such ease, too. The gravy that it makes is highly addicting. I poured it over my beef slices and sopped it up with bread. All manners went out the window with this dish!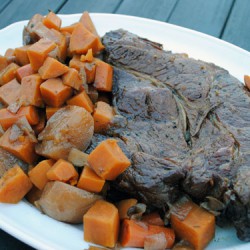 Balsamic Braised Pot Roast
Ingredients:
1 boneless beef chuck roast (3 to 4 lbs.)
1 tsp. salt
1/2 tsp. pepper
2 tbsp. olive oil
2 medium carrots, cut into 1-inch pieces
1 medium onion, coarsely chopped
3 medium turnips, peeled and quartered
1 large sweet potato, peeled and cubed
3 garlic cloves, minced
1 cup dry red wine or beef broth
1 can (14 1/2 oz.) beef broth
1/2 cup balsamic vinegar
1 bunch fresh thyme sprigs
4 fresh sage leaves
2 bay leaves
1/4 cup cornstarch
1/4 cup cold water
Directions:
1. Sprinkle roast with salt and pepper. In an ovenproof Dutch oven, heat oil over medium heat. Brown roast on all sides. Remove from pan.
2. Add the carrots and onion to the same pan; cook and stir until tender. Add the turnips, sweet potato, and garlic; cook 1 minute longer.
3. Add wine, stirring to loosen browned bits from pan. Stir in the broth, vinegar, and herbs. Return roast to pan; bring to a boil. Cover and bake at 325° for 2-1/2 to 3 hours or until meat is tender.
4. Remove beef and vegetables; keep warm. Discard herbs from cooking liquid; skim fat. In a small bowl, mix cornstarch and water until smooth; stir into cooking liquid. Bring to a boil, stirring constantly; cook and stir for 2 minutes or until thickened. Serve with pot roast and vegetables.