So what the heck is Shakshuka, you ask? It's an Israeli dish of eggs cooked in a tomato sauce or maybe you've heard of Eggs in Purgatory. You all know how much I cannot resist a meal topped with a delicious runny egg, so when I saw this in my latest issue of Cooking Light, I had to make it the very next day. I was mostly intrigued because at 305 calories per serving, it included 1/2 cup of rice, 1 cup of the sauce, 1 egg, and some feta. That's quite a lot of food!
So, how's it taste?
I love the idea of eggs in a tomato sauce filled with peppers and onions. Especially since I've gotten over my hatred of bell peppers. The peppers cooking with the onion and garlic made my mouth water. Add the marinara sauce and I couldn't wait to dig in! I had never heard of Shakshuka before, so I wasn't sure how close to the real thing this Cooking Light version was. While I enjoyed this dish, it has a lot of room for improvement. I think with some adjustments this could be a really killer brunch item!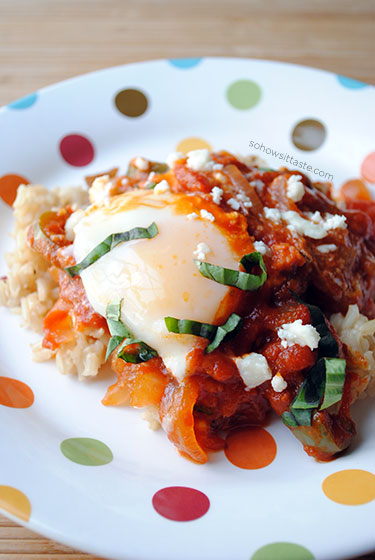 There are way, way too many peppers and onions. Two cups each is overkill with a dish like this and they should be chopped, not sliced. It was really hard to eat with so many slices of veggies. I was super excited about how much food you get for a serving, but one cup of the sauce was too much. I think I ended up eating only 1/2 cup because the rice was getting lost and so was my precious runny egg. I want to taste all the elements. I don't think the rice is normally part of Shakshuka and when I did a little Googling, I found Smitten Kitchen has made this dish, too. She suggests serving it with pita, which makes way more sense to me. I'd much rather dip pita, or naan, or crusty bread into this. Can you imagine taking your bread, swirling that lovely yolk around the tomato sauce, and getting a big bite! Hello! That's how it should be eaten. I can't wait to try this again with the improvements. This is what I love about being in the kitchen…always learning something new.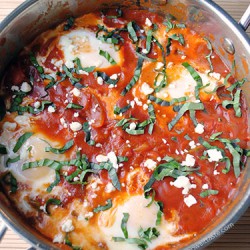 Shakshuka
Cooking Light, October 2013
makes 4 servings (1/2 cup rice, 1 cup sauce, 1 egg, 1 1/2 tsp. feta)
per serving: 305 calories, 11.3g fat, 11.9g protein, 5.2g fiber, 39.5g carbs
Ingredients:
1 tbsp. olive oil
1 cup (1/4-inch-wide) strips red bell pepper*
1 cup (1/4-inch-wide) strips green bell pepper*
2 cups (1/4-inch-thick) vertically sliced onion*
1/4 teaspoon kosher salt
2 garlic cloves, minced
2 cups lower-sodium marinara sauce
1 tsp. smoked paprika
4 large eggs
2 cups cooked brown rice*
1/4 cup fresh baby basil leaves
2 tbsp. crumbled feta cheese
*Note: I recommend reducing the bell pepper to 1 cup total and the onion to no more than 1 cup. I'd also chop them instead of slicing. I'd also recommend serving this with pita or crusty bread instead of the rice.
Directions:
1. Heat a 10-inch nonstick skillet over medium heat. Add oil to pan; swirl to coat. Add bell peppers, onion, and salt; cook 5 minutes, stirring occasionally. Add garlic; cook 30 seconds. Stir in marinara sauce and paprika. Bring to a boil; reduce heat, cover, and simmer 5 minutes.
2. Form 4 (2-inch) indentations in sauce, using the back of a spoon. Crack eggs, 1 at a time, into a small custard cup, and gently slip into each indentation. Cover and cook 6 minutes or until eggs are done.
3. Divide rice evenly among 4 shallow bowls. Spoon egg mixture evenly over rice, and sprinkle with basil and cheese.