This sandwich is spectacular. Life-changing almost. Yes, it appears to be nothing special, but this Veggie Melt is in a category all by itself. When I saw it in a cookbook I checked out from the library, I knew it was going to be the first recipe I'd make out of it. It's vegetarian, and packed with outstanding flavor. I'm also newly obsessed with Genesis bread. It's sprouted whole grain and seed bread and it's fantastic. Hearty, crunchy, and guess what? You can pronounce every single ingredient. No processed crap, no weird preservatives. This bread is living. You'll find it in your grocer's freezer, not the bread aisle. It's pricier than most bread, but well worth it! And on this sandwich? Man, oh man. You have to make it!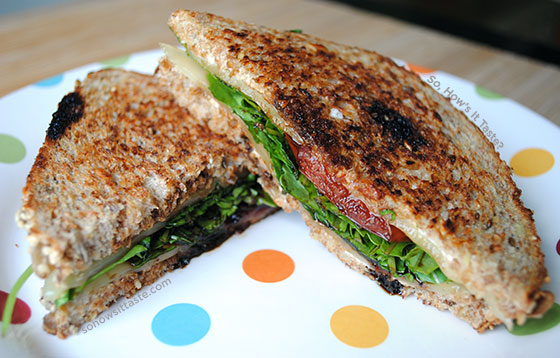 So, how's it taste?
You can tell from my gushing that I loved it. The roasted tomatoes are slightly sweet and still juicy, with just a hint of that lovely paprika. The arugula provides crunch and a slightly bitter bite. Then you get TWO slices of Swiss cheese. The original recipe called for butter, but I used a low-fat mayo on the inside instead. It needs just a touch, not too much. The star is the balsamic syrup. Oh my gosh, it's amazing. Sweet and sticky and it gets everywhere. I love a messy sandwich. The original recipe calls for fennel (which I've listed in the recipe below), but my grocery was out. I think this sandwich would blow my mind if I had added fennel. It has it raw, but I think roasting it along with the tomatoes would be outstanding. I can't wait to try it with the fennel. I promise you it's worth it to buy the Genesis (or Ezekiel) bread. It just adds another level of flavor and crunch that I just loved.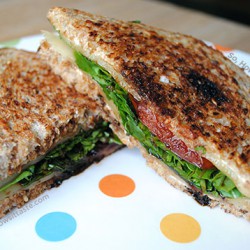 Veggie Melt
slightly adapted from The Best of Clean Eating 3
makes 4 sandwiches
per serving: 396 calories, 10g fat, 47g carbs, 6g fiber, 27g protein
Ingredients:
6 plum tomatoes, halved lengthwise
1 tsp. olive oil
1/2 tsp. smoked sweet paprika
salt and freshly ground black pepper, to taste
3/4 cup balsamic vinegar
2 tbsp. honey
1/2 small bulb fennel, trimmed
8 (1 oz.) slices whole-grain bread (I used Genesis bread)
2 tbsp. low-fat mayo
8 (1 oz.) slices low-fat Swiss cheese
2 cups baby arugula
Directions:
1. Preheat oven to 425F. Arrange tomatoes, cut side up, on a parchment-lined (or sprayed) baking sheet. Drizzle with olive oil and sprinkle with paprika, salt, and pepper. Roast in center.
2. Meanwhile, in a small saucepan on high heat, bring vinegar and honey to a boil. (Be careful of the steam, it's very acidic!) Reduce heat to medium and simmer for 8 to 10 minutes, until mixture is thicker and reduced to about 1/3 cup. Remove from heat and set aside.
3. Using a vegetable peeler or mandoline, shave fennel into 1/4-inch-thick slices. Set aside.
4. Arrange bread on flat surface. Spread mayo evenly on 4 slices. Add a slice of cheese on top of slices with mayo. Add arugula, fennel, and tomatoes, dividing evenly. Drizzle each with about 2 teaspoons of balsamic syrup. Top with remaining slices of cheese and bread.
5. Heat a large nonstick saute pan on medium. Place two sandwiches in pan and cook, turning once, until cheese melts, filling is warm, and bread is golden brown, about 4 to 5 minutes. (You can use butter or nonstick spray--I used spray.) Cover and keep warm. Repeat with remaining two sandwiches. Serve immediately.