I wasn't feeling anything special about this Slow-Cooked Jambalaya-Style Red Beans & Rice. I put it on my list to make because I really enjoy jambalaya and thought the mash-up between jambalaya and red beans and rice was interesting. But let's face it, it's beans, rice, meat, and shrimp. Whoop-dee-doo. How much more exciting can that get in a slow cooker? Um, apparently VERY. I have never underestimated a recipe so much. This dinner was absolutely delicious. If you only make one slow cooker meal this winter, make it this one.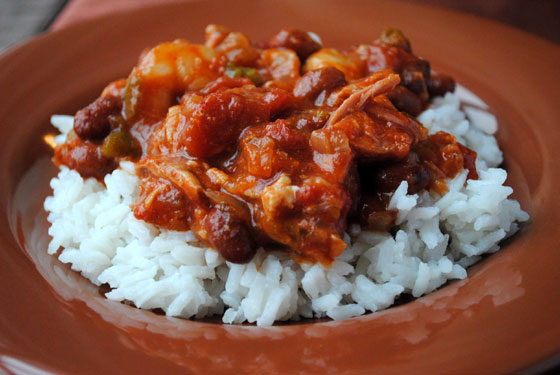 So, how's it taste?
I loved this. Every morsel of it. The smell while it was cooking was insanely good, but the taste was even better. The recipe called for chicken thighs and they work so well in slow cooker recipes. The meat was perfectly tender and juicy. I used turkey sausage to cut the calories instead of regular kielbasa and it turned out great. The flavor in this dish was just incredible. I don't like green peppers much, but added them anyway and they were so good! The jambalaya was savory, but had a hint of sweet from the tomato paste. I thought it was an odd ingredient, but it made all the difference. Splash on a few drops of hot sauce and you're in business. This has to be in my top five all-time favorite slow cooker recipes.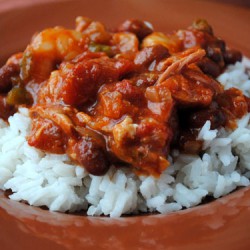 Slow-Cooked Jambalaya-Style Red Beans & Rice
Ingredients:
1 medium onion, chopped
3/4 lb. boneless skinless chicken thighs, quartered
1 clove garlic, finely chopped
1 green bell pepper, chopped
2 dried bay leaves
1 can (15.5 oz.) red beans, drained, rinsed
1 can (6 oz.) tomato paste
1 can (14.5 oz.) diced tomatoes, undrained (I used garlic & herb flavor)
1/2 tsp. salt
1 package (12 oz) frozen cooked deveined peeled small shrimp, thawed (I used 1 lb. fresh, uncooked)
1/2 lb. cooked kielbasa or Polish sausage, halved lengthwise, cut into 1-inch slices
4 cups uncooked instant white rice
4 cups water
Red pepper sauce, if desired
Directions:
1. In 4- to 6-quart slow cooker, layer all ingredients in order listed, except shrimp, sausage, rice, water and pepper sauce.
2. Cover; cook on Low heat setting 6 to 8 hours.
3. About 10 minutes before serving, gently stir shrimp and sausage into chicken mixture. Remove and discard bay leaves. Increase heat setting to High; cover and cook 5 to 10 minutes longer or until shrimp and sausage are hot.
4. Meanwhile, cook rice in water as directed on package. Serve meat mixture over rice. Serve with pepper sauce.