When I think of pizza rolls, I think of those tiny fried bites of non-recognizable pizza goo that you find in the freezer section. I'll admit I'm guilty of buying them, but never again. Not after I made these Pizza Rolls from my fellow foodie Erin, who writes a mouth-watering blog, One Particular Kitchen. Picture how you'd build a homemade cinnamon roll then change that to something savory, cheesy, spicy, and absolutely delicious. You've got my new favorite way to eat homemade pizza.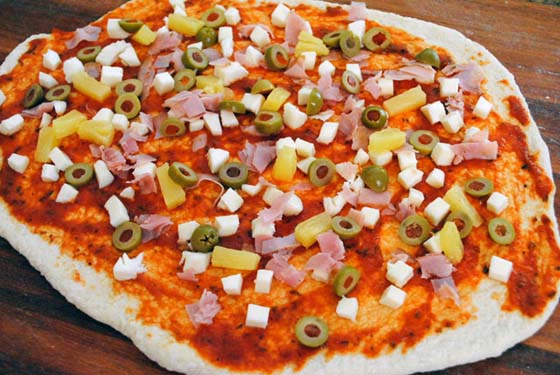 So, how's it taste?
It's pure genius to eat pizza rolled up this way, and it's so good. Crazy good. This is the perfect food for tv watching I might add. The beauty is that it's like regular pizza in that you can make in any combination you like. I like pineapple, ham, and green olives. Odd I know, but it's hey it's my pizza! I turned the volume up and used jalapeno/onion Boar's Head ham. I also used fresh mozzarella, but I think the pre-shredded kind would have been easier to work with.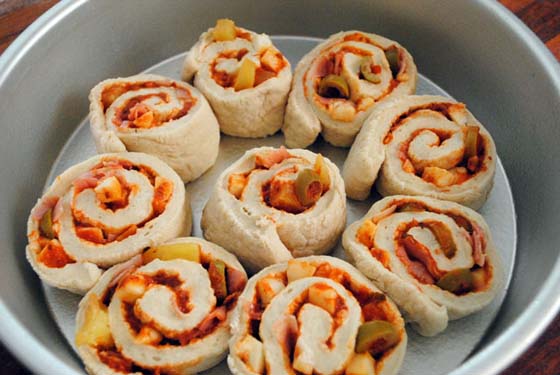 Once you get your dough rolled out and topped, simply roll the entire pizza into one big roll. Next, take the dental floss to cut into the individual rolls. Using the dental floss instead of a knife prevents the rolls from being squished. Pretty smart, huh?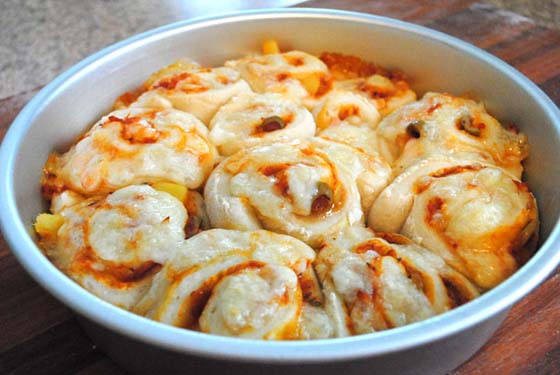 What I like best about these rolls, is the additional cheese on the top. Ooey, gooey cheese! I like to dip my rolls in extra pizza sauce, too. Yummy! These were so good I had them for breakfast. But I guess pizza for breakfast is nothing new!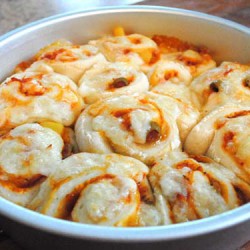 Pizza Rolls
Ingredients:
One Particular Kitchen's icebox dough (or try the dough in the deli section at Publix)
pizza sauce (pick your favorite)
any pizza toppings, chopped (chopped so it's easier to slice through)
mozzarella cheese
dental floss, unflavored (to cut into rolls)
Directions:
1. Preheat the oven to 350. Roll out the dough into a rectangle.
2. Top with a thin layer of sauce and sprinkle with your choice of chopped toppings. Then add the cheese.
3. Roll it up! Roll it from the short end if you don't need many rolls. Rolling from the longer end will produce more rolls.
4. Use the dental floss it to cut the rolls. Slide the floss under the roll, cross the ends over the top like you're going to tie a knot, then pull them all the way through the dough so the floss is straight again. This slices it clean and keeps your rolls from getting flattened as you slice.
5. Place the rolls in an oiled casserole dish with the pretty sides showing (if you're making these for a party and want them easier to handle, individually bake them in a muffin tray instead). Sprinkle the top with more cheese.
6. Bake at 350 until the cheese on top is melted and bubbly.