Nashville has such a great farmers' market. I've found myself there several Saturdays in a row now and I always come home with a bagful of goodies. On one visit I found a jackpot of dried legumes and bought some red lentils. I couldn't resist their bright color. Unfortunately, they lose their color when cooked (and I forgot to snap a pic before I cooked them!). And speaking of…have I ever cooked lentils before? Nope. Did I have a clue what to make out of them? Heck no. Thank goodness for the internet. Luckily I found an interesting recipe for Red Lentil Paté.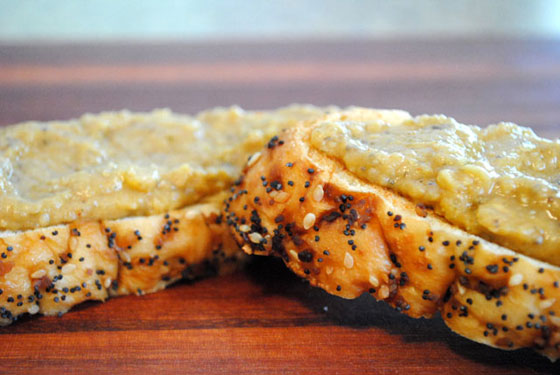 So, how's it taste?
It tastes awesome! As you can see in the pic, they lose their color big time and it just looks like brown mush. But boy is it good brown mush. I remembered having green lentils as a spread on toast in a restaurant a long time ago and this recipe is pretty close. The texture is similar to hummus. It was great on my everything baguette and would be really good as a spread on a sandwich. The flavor reminds me of bean soup, especially with the bay leaf. I served it warm and it was just good, hearty, comfort food. Makes a perfect snack or appetizer. I ended up freezing some of it as I may try it as a soup base or a stir-in to future recipes.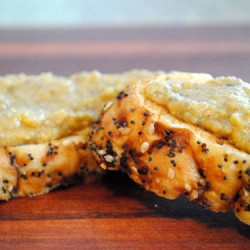 Red Lentil Paté
Ingredients:
2 tbsp. olive oil
1 medium yellow onion, thinly sliced (about 1 1/4 cups)
1 cup coarsely chopped cremini mushrooms
2 large garlic cloves, chopped (about 1 tsp.)
1 tsp. smoked paprika
1 tsp. dried oregano
1/2 tsp. freshly ground black pepper
1 bay leaf
1/2 cup dry white wine
2 cups cooked* red lentils (about 3/4 cup dried)
Directions:
1. Heat olive oil in a large frying pan over medium-high heat. Once oil shimmers, add onion and mushrooms and sauté, stirring occasionally, until soft and beginning to brown, about 6 to 7 minutes. Add garlic and sauté until soft, about 2 minutes.
2. Add all spices and stir to coat onion mixture. Add white wine and deglaze the pan by scraping up any browned bits sticking to the bottom. Cook until wine is reduced by half.
3. Remove from the heat and let cool slightly. Remove bay leaf and transfer mixture to the bowl of a food processor fitted with a blade. Add cooked lentils and process until mostly smooth, with some small pieces remaining, about 1 minute.
4. Season well with kosher salt. Spoon into an airtight container and place in the refrigerator to cool. Serve over toast points, a baguette, or dip your veggies in it.
*To cook lentils:
1. Use 1 1/2 cups of water or broth to 1 cup of lentils.
2. Add water or broth to a saucepan and if desired add flavorings, such as herbs, garlic, and onions. Do not add salt until the lentils are cooked. Salt will toughen the lentils if added at the beginning of cooking time.
3. Bring water or broth to a boil and add the lentils. Boil for 2 or 3 minutes and then reduce heat to a simmer. Cook until tender. Cook green and brown lentils for approximately 45 minutes and red lentils for 25 minutes. Test for desired tenderness 10 to 15 minutes before end of cooking time.