A few weekends ago I was at my mom's house and I wanted to cook something figure-friendly, but it had to be something we'd both enjoy. Sometimes low calorie versions of your favorite foods don't quite taste as good as the original. Since my mom isn't concerned with calories like I am, it had to taste good for her, too. We found this awesome recipe for vegetarian Stuffed Shells that was full of cheese and yummy veggies, and under 400 calories per serving. I'd say we both came out winners with this one!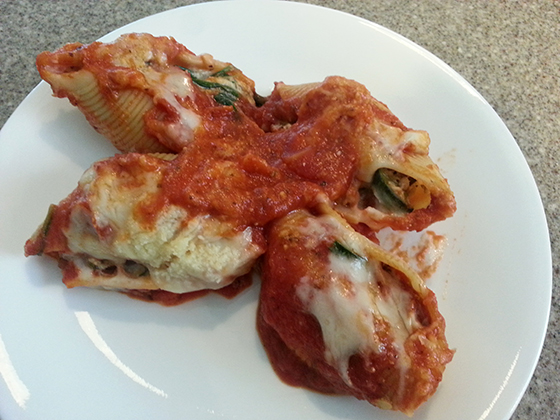 So, how's it taste?
Sorry for the phone pics, but I didn't take my nicer camera, argh! Boy were we wowed by this dish. It's a bit labor intensive with cooking the veggies and pasta, then stuffing the pasta, and finally baking. It's a lot of steps, but so worth it. Plus you get about nine servings and the leftovers are even better than fresh out of the oven! They're packed with sauteed zucchini, mushrooms, spinach, and tons of ricotta. I think some onions and bell peppers would be excellent additions, too. There's a touch of mozzarella in the stuffing, but most of it is on top all gooey and melty. There's a generous portion of marinara, too. I used Newman's Own and it had such a great flavor. Most marinaras are too sweet for my taste, but I finally found a jarred version I like.
A serving is four pasta shells, which doesn't sound like a lot, but it was very filling. I had a hard time getting all the shells into the pan, so I ended up with about seven servings and more filling in mine. The only thing I'd change next time is I would chop the spinach, so it wouldn't be so long and stringy. I also only used 1/4 cup of Parmesan on the top because a 1/2 cup seemed like too much. (Yes, I know, there's normally no such thing as too much cheese!) I'll definitely be making this one again!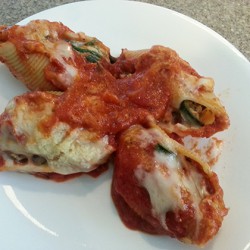 Yield: 9 servings
Total Time: 1 hr 13 min
Stuffed Shells
Ingredients:
1 (12 oz.) package jumbo pasta shells
2 tsp. olive oil
2 medium zucchini, halved lengthwise & cut into 1/4-inch thick slices
1 (8 oz.) package mushrooms, cut into 1/4-inch thick slices
2 garlic cloves, minced
1 (5 oz.) package fresh baby spinach (6 oz. bag ok)
1/2 tsp. kosher salt
1/4 cup chopped fresh basil
2 tbsp. dried parsley
1 1/2 tsp. dried oregano
1/2 tsp. crushed red pepper
1 (15 oz.) container part-skim ricotta cheese
1 1/2 cups part-skim mozzarella, shredded, divided
1 (24.5 oz.) jar lower-sodium marinara sauce, divided (I used Newman's Own)
Cooking spray
1/2 cup grated fresh Parmesan cheese
Directions:
1. Preheat oven to 350F.
2. Cook pasta according to package directions, omitting fat; drain.
3. While pasta cooks, heat a large nonstick skillet over medium-high heat. Add oil to pan; swirl to coat. Add zucchini and mushrooms; saute 6 minutes or until vegetables are tender and beginning to brown. Add garlic; saute 1 minute. Add spinach and salt; cover, and cook 1 minute or until spinach wilts. Remove pan from heat; cool 10 minutes.
4. Combine basil, next 4 ingredients (through ricotta), and 1/2 cup mozzarella in a large bowl; stir in vegetable mixture.
5. Spread 1 cup marinara sauce over bottom of a 9x13 glass or ceramic baking dish coated with cooking spray. Stuff cheese mixture evenly into shells. Place shells on top of sauce in dish. They'll be very packed in! Pour remaining sauce over shells. Top with 1 cup mozzarella and the Parmesan. Cover with a sheet of foil coated in cooking spray, coated side down.
6. Bake for 40 minutes or until sauce is bubbly and cheese melts. Let stand 15 minutes before serving.
per serving (4 stuffed shells & 1/3 cup sauce): 384 calories, 14g fat, 24.1g protein, 40.1g carbs, 3.3g fiber