It got a little ridiculous in my house when I made Cheese Ravioli Carbonara. I loved it so much, I made it four times in a row. Four. Times. I had it for lunch and dinner pretty much everyday for about two weeks. I don't often make the same meals over and over unless they are that good. And I really don't make them that many times in a row. But let's face it, it's cheesy ravioli in a creamy sauce…with bacon. Now you understand!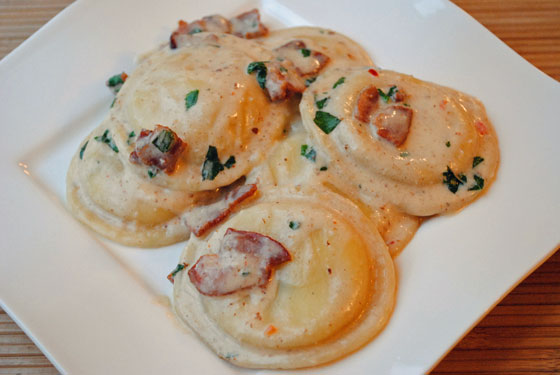 So, how's it taste?
I think it's safe to say I fell head over heels for this dish. It's packed with savory deliciousness and it's incredibly simple. The original recipe includes chicken, which I used first and it was great, but it works so well without it, too. If you want to add chicken, use about one pound of boneless, skinless chicken breasts and cut them into strips. I had all the ingredients leftover from the first batch, except for the chicken and that's what lead to making it without. I can't begin to describe how fantastic the sauce tastes. It's decadently creamy and has some oomph to it from the little bit of Italian dressing. Crumbled, crispy bacon and fresh basil make the ravioli super fancy and OMG the richness! This dish will knock your socks off from the first bite. It's creamy, it's cheesy, it's insanely tasty, and includes bacon! I actually increased the amount of sauce in my last two batches. Now you get why I got carbonara crazy!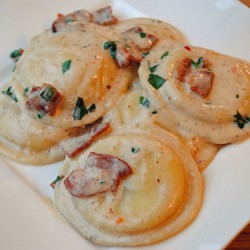 Cheese Ravioli Carbonara
Ingredients:
2 tbsp. light Italian dressing
3/4 cup chicken broth
1 package (9 oz.) refrigerated or frozen (thawed) cheese-filled ravioli
1/2 cup half-and-half
4 slices bacon, crisply cooked and crumbled
Shredded Parmesan, optional
Chopped fresh basil, optional
*You can add chicken to this dish. Use 1 pound of boneless, skinless chicken breasts and cut into strips. Cook the chicken in the Italian dressing and then add the broth and ravioli and follow the rest of the directions below.
Directions:
1. In 10-inch skillet, add dressing, broth, and ravioli. Heat to boiling over high heat; reduce heat to medium. Cook uncovered about 4 minutes or until ravioli are tender and almost all broth has evaporated.
2. Stir in half-and-half; reduce heat. Simmer uncovered 3 to 5 minutes or until sauce is hot and desired consistency (cook longer for a thicker sauce). Sprinkle with bacon, cheese, and basil.