Good heavens have I found the most decadent, indulgent, satisfyingly rich breakfast sandwich in the history of the world. Yeah, it's that damn good. I put it in all kinds of categories because it's perfect for so much more than breakfast. It's a dessert, it's lunch, it's an appetizer. It's a Grilled Goat Cheese Sandwich with Honey & Fig. The most amazing food I've eaten lately. The flavor combinations are a bit strange, but they all work together. If there's a part of this sandwich you don't like, don't make it. The experience is all the flavors coming together and leaving one ingredient out changes everything.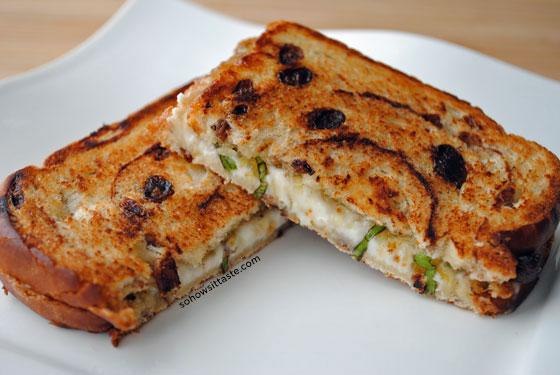 So, how's it taste?
From the beginning of this post, you can tell I loved it. The ingredients were so different, it caught my attention immediately. It also caught my eye because one sandwich is only 243 calories. That's a little higher than I like to have for breakfast, but it's worth every single calorie. If I can eat something like this and not blow my count for a meal, then I'm all for it. There's so much going on in flavor and texture. Crispy, grilled raisin bread surrounds warm, gooey goat cheese. This sandwich is very much on the sweet side. I have an incurable sweet tooth, so I loved it. But if sweet isn't your thing, you're going to be turned off by this sandwich. The goat cheese is tangy and then you have the lemon zest that cuts down on the sweet, too, but the fig preserves, honey, and bread put the sweetness over the top. The basil is really interesting. You may be tempted to leave it off, but that herby addition is necessary. Basil is in the mint family, so you can kind of see (and really taste!) how it works so well.
I think orange zest would work a million times better than lemon. Orange was made to go with honey and fig. The lemon can be a tad bit harsh here, even with all that sweetness going on. I added walnuts to the goat cheese mixture for one sandwich, as I thought the added crunch would be awesome. It was really good and went well with the rest of the flavors, but I much preferred a creamy filling over one with added texture.
Another tip is to turn these into appetizers. Cut the sandwich in half, then into halves again, and you've got cute, little, bite-sized grilled cheeses that would be great for a party or a brunch. So many opportunities to eat this sandwich and I'll take advantage of every single one!
Update 7/3/12: I made a batch of the goat cheese spread using orange zest instead of lemon. It made this sandwich even better! I highly recommend using orange.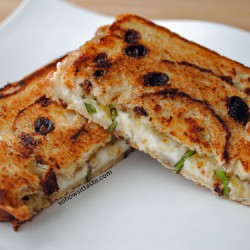 Goat Cheese Sandwiches with Honey & Fig
Ingredients:
2 tsp. honey
1/4 tsp. grated lemon or orange zest (I recommend orange)
1 (4 oz.) package goat cheese
8 (1 oz.) slices cinnamon-raisin bread
2 tbsp. fig preserves
2 tsp. thinly sliced fresh basil
Cooking spray
Directions:
1. Combine honey, citrus zest, and goat cheese; stirring until well blended. Spread 1/4 of goat cheese mixture on each of 4 bread slices; top each slice with 1 1/2 teaspoons fig preserves and 1/2 teaspoon basil. Top with remaining bread slices.
2. Spray a large nonstick skillet with cooking spray and heat over medium. Add 2 sandwiches to pan. Place a cast-iron or heavy skillet on top of sandwiches; press gently to flatten (I just pressed down with a heat-proof spatula and that worked fine). Cook 3 minutes on each side or until bread is lightly toasted (leave cast-iron skillet on sandwiches while they cook). Repeat with remaining sandwiches.