This is one of my favorite meals for so many reasons. I crave these Sweet Onion & Spinach Burgers all the time and they have become a regular dish in my kitchen. Not only are they absolutely delicious, but they are low in calories, easy to make, and freeze very well. It's like your best friend in food.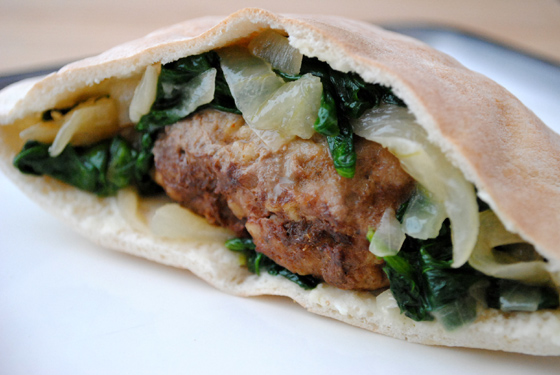 So, how's it taste?
These burgers are phenomenal. I can't say enough about how much I enjoy them. I've made them with ground beef, turkey, and pork, and each one is equally delicious. The best part about this burger is the combination of savory cheese with the sweet onion and spinach. Alouette works best, but I've also tried Laughing Cow. (Laughing Cow is a good choice if you're like me and might be tempted to use more cheese, lol. It's already portioned for you!) It's only a tablespoon of cheese in each serving, but it packs a flavor punch. It starts to melt in the toasted pita and mixes with the onions and spinach to make this ooey, gooey companion to the burger. The onions are caramelized, but not in your usual cook-them-until-golden fashion. There's actually brown sugar in them! That touch of sweetness pushes this dish over the top.
This meal is great for freezing. I put the cooled burgers into a large freezer bag and I portion out the onion-spinach mixture into 6 servings and freeze those as well. Perfect to grab and go in your lunch box or to make a quick dinner of leftovers. I hope you enjoy this low-calorie meal as much as I do!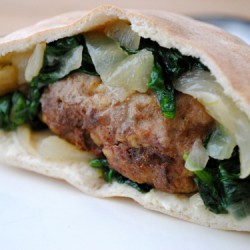 Sweet Onion & Spinach Burgers
New Dieter's Cookbook
makes 6 servings
per serving: 281 calories, 12g fat, 21g protein, 24g carbs, 4g fiber
Ingredients:
1 beaten egg
1/4 cup rolled oats
2 tbsp. water
1/2 tsp. seasoned salt
1/4 tsp. black pepper
1 lb. lean ground beef, turkey, or pork
1 tbsp. butter
1 small sweet onion, sliced (1 cup)
2 tsp. brown sugar
1/2 tsp. dry mustard
2 cups loosely packed fresh baby spinach
6 tbsp. light semi-soft cheese with garlic & herbs (Alouette or Laughing Cow)
3 whole wheat pita bread rounds, halved
Directions:
1. Preheat broiler. In a medium bowl stir together egg, oats, water, salt, and pepper. Add beef; mix well. Shape mixture into 6 1/2-inch oval-shaped patties. Place patties on broiler pan. Broil 3-4 inches from heat for 10 to 12 minutes or until internal temperature registers 160F, turning once. (I find it easier to cook patties in a skillet on the stove.)
2. Meanwhile, in a medium nonstick skillet melt butter over medium-low heat. Add onion. Cook, covered, for 13 to 15 minutes or until onion is tender. Add brown sugar and dry mustard. Cook, uncovered, over medium-high heat for 3 to 4 minutes or until onions are golden brown, stirring constantly. Stir in spinach. Toss lightly to coat; heat through until wilted.
3. Spread 1 tablespoon of the cheese on one side of the inside of each pita bread half. Fill each pita bread half with a patty and some of the onion-spinach mixture. (I like to toast my pita first. Take a small strip of foil and crush it into a ball. Place the foil ball inside the pita half. Toast on your desired crust color. This will make adding filling easier to a toasted pita.)