Raise your hand if you've jumped on the spiralizing veggies trend! 🙌🏽 I hate to even call it a trend because I think I'm almost the last person to really get on board with it and it looks like it's here to stay. Fine by me! A few years ago I shared a recipe for Zucchini Noodles with Lemon Cream Sauce, but I hadn't fully embraced it and I made that recipe by basically julienning the zucchini. In this post, I'll share with you how I spiralize veggies and the meals I make using spiralized veggies.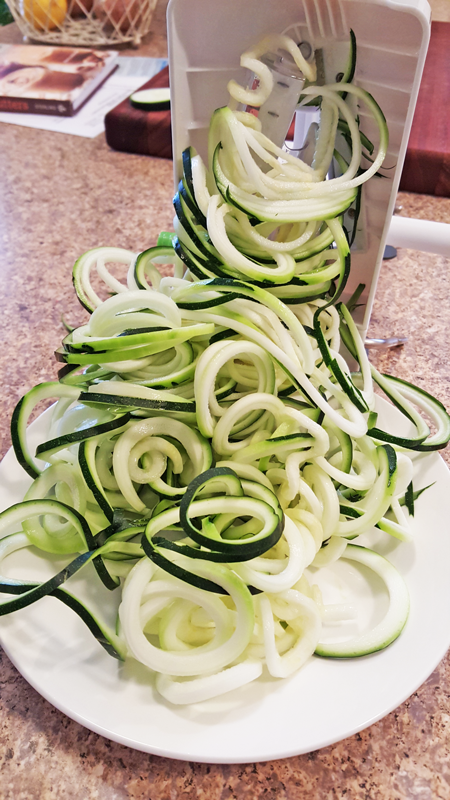 Rewind to a few months ago when I listened to the Food Blogger Pro Podcast featuring Ali Maffucci. (Sidenote: I highly recommend this podcast. It's a fantastic resource for any type of blogger, not just food!) Ali designed The Inspiralizer
and I was hooked! It's a little more expensive than some other spiralizers, but it's much easier to store and clean. There's also no fuss with switching out sharp blades. The compact design sold me and I got one as a gift in January. I'm happy to report I haven't stopped using it! I thought I'd share a few meals I've made using spiralized veggies. I LOVE incorporating more veggies into my diet. The way I look at it is I can splurge a little more on the sauce since I'm not using pasta. Winner winner!
Zucchini
Zucchini is probably the most popular and the one people may try first. It's great because its mild flavor goes with almost any sauce. The downside to zucchini is that since it's so watery, it will make your sauce thin and may make it separate. There are some tricks you can use to help this though, like straining the noodles or squeezing them out with a paper towel after you cook them. I like to sauté them in a skillet, drain them, add them back to the skillet, and add sauce to heat through.
Zucchini noodles with peanut sauce was fantastic! I made the peanut sauce myself (perhaps I'll do a separate post soon on that with homemade peanut butter!).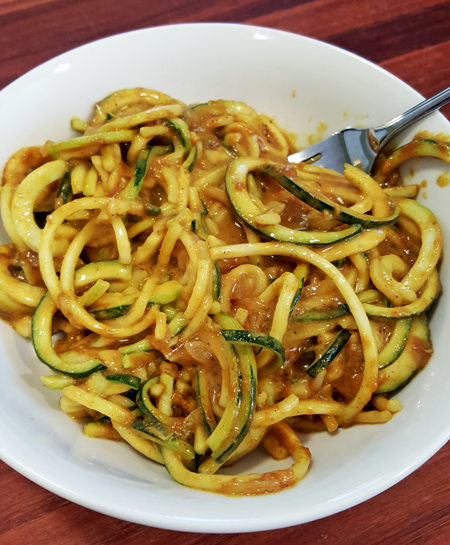 What I like best about spiralizing veggies is that it takes no time to put together a meal and you can get really creative with it. I spiralized a zucchini, heated it in a skillet and threw in some pork I had leftover in the fridge. A quick sauce I like to make is mixing apple cider vinegar, honey, and dijon mustard. Toss it with zucchini and pork, and you've got a pretty healthy dinner in no time.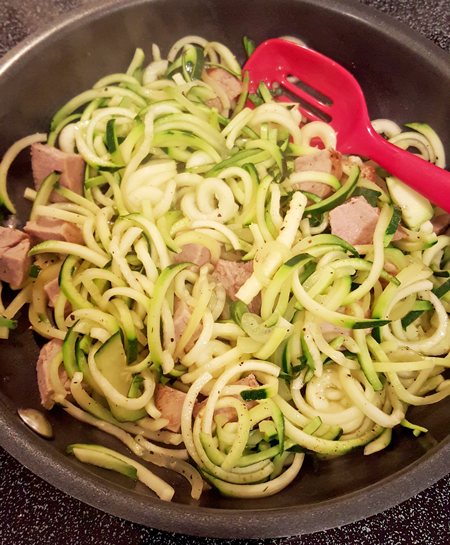 Squash
You can treat yellow squash the same way you do zucchini. In this recipe, I altered the sauce from Pinch of Yum's Sausage and Sweet Potato Zucchini Lasagna. I basically deconstructed her recipe and turned it into a sauce to serve over zucchini noodles. Zucchini + sweet potato sauce = veggie combo explosion! The trick with this is to store the zucchini noodles and sauce separately so you don't get the runny mess from the zucchini noodles. It's so quick and easy to spiralize noodles, that I usually will only spiralize what I need for one meal (about 1/2 a large zucchini) and then add the sauce. This sauce freezes really well, too. Freeze it in individual portions and dinner is a breeze!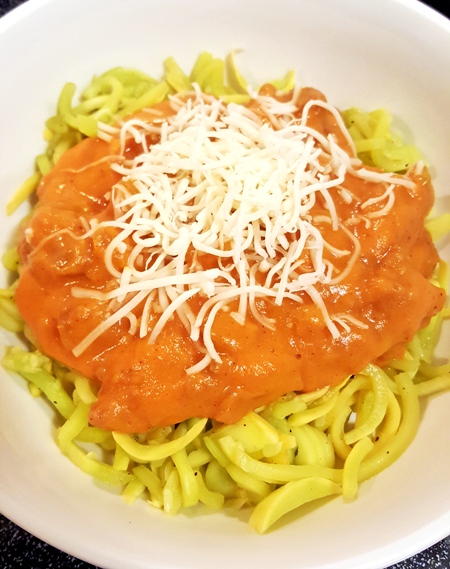 Other great sauces for zucchini and squash…cream sauces! Try my favorite Gorgonzola Sauce with Walnuts! Take pasta recipes like Creamy Spring Pasta, Monterey Shrimp Pasta, or Shrimp Parma Rosa and use spiralized veggies instead of pasta.
Butternut Squash
Yes, you can spiralize butternut squash! Cut off the end with the seeds and spiralize the rest. Remove the seeds from the end and you can roast that.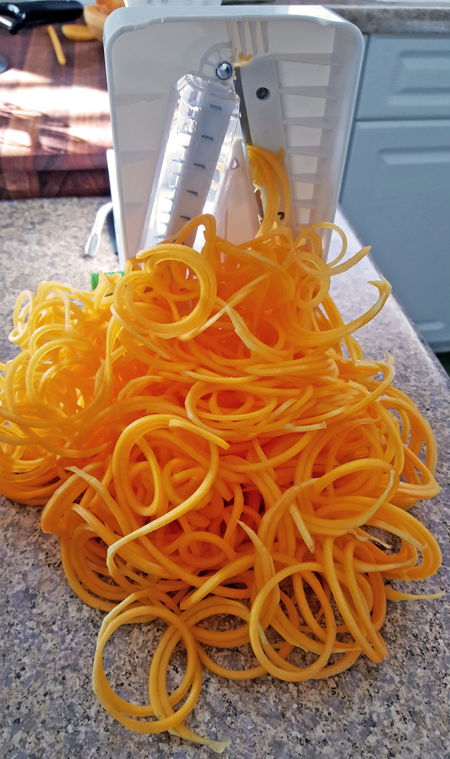 For butternut squash noodles, I like to bake them. I spread them out on a baking sheet with sides and bake them in the oven at 425 degrees for about 12 minutes. I like them to be a little soft, but still hold up.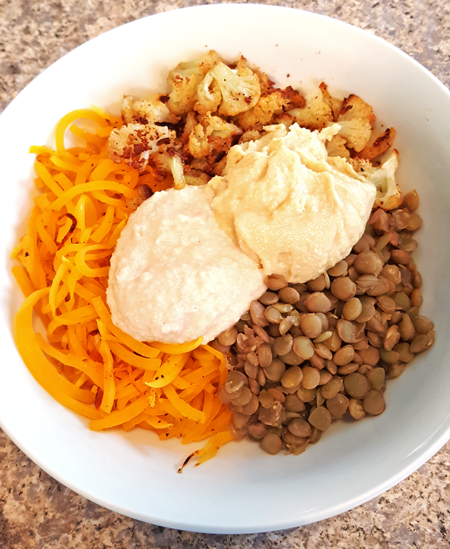 I made Butternut Squash Noodles with Cauliflower and Lentils inspired by this recipe from Inspiralized.com. I topped mine with a dollop of hummus and a dollop of Pinch of Yum's Cashew Sauce. Whoa, this one was good! See how you can easily throw anything together and it turns into a healthy masterpiece!
Rutabaga
Yep, ate my first rutabaga! Surprisingly sweet and it makes a TON of noodles! I freeze portions of noodles for super quick dinners.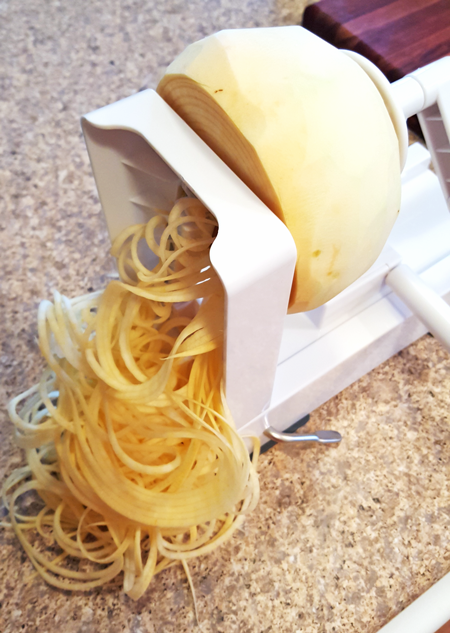 I made Buffalo Cauliflower with Rutabaga Noodles from Inpiralized.com. This recipe is from Ali's meal plans that you can purchase. I bought the vegan meal plan (even though I'm not vegan). Ali's entire site is full of awesome recipes if you don't want to buy a meal plan. Buffalo cauliflower is roasted cauliflower tossed in buffalo sauce. Ali has a recipe for buffalo cashew sauce, but I used a bottled sauce. I also sprinkled mine with a little blue cheese. This stuff was rich and decadent…from veggies!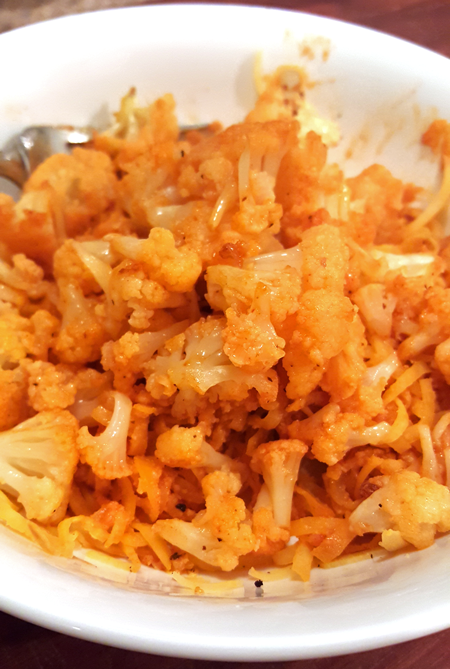 Sweet Potato
I saved the best for last! I am obsessed with spiralizing sweet potatoes. They go with just about everything, savory and sweet. The great thing about harder veggies like sweet potato, rutabaga, and butternut squash is that you can turn the noodles into RICE. Whut? Did I just blow your mind? Yep, take the noodles and pulse them in a food processor and it mimics rice. It's a gozillion times tastier than rice. Wait until you try beans and sweet potato rice!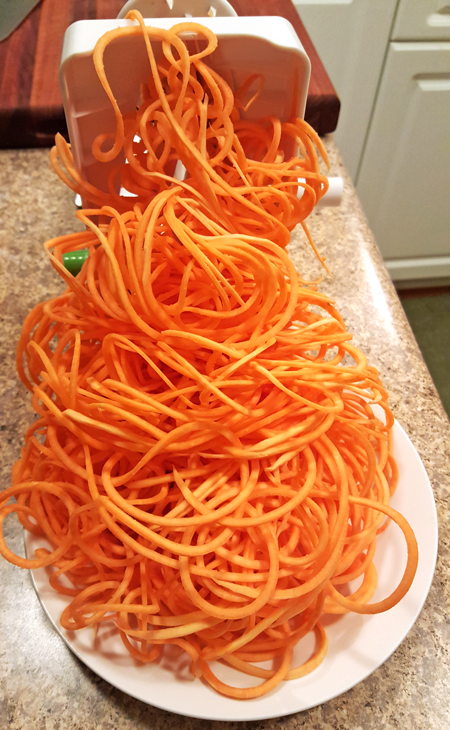 If I'm using sweet potatoes in noodle form, I'll bake them. 425 degrees for about 10-12 minutes.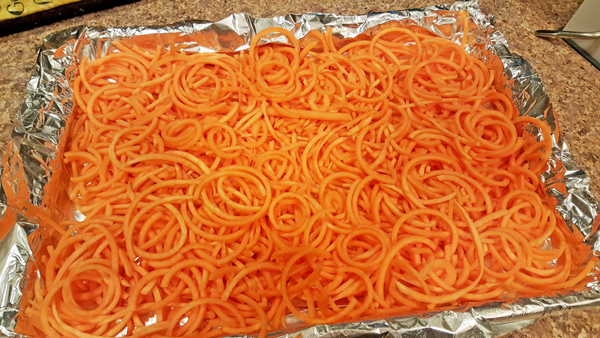 If I'm using them as rice, I'll pulse the raw noodles in a food processor before I cook them.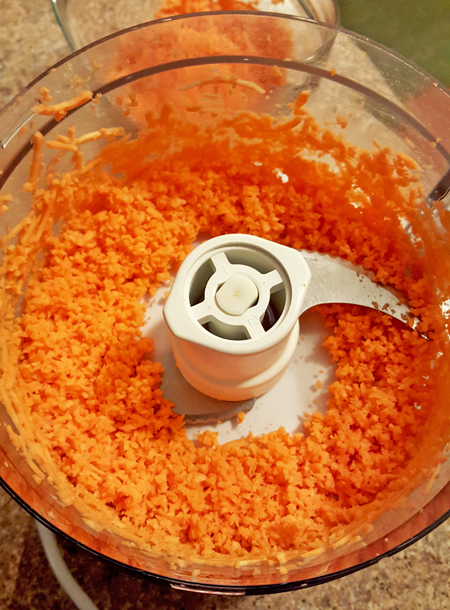 A great recipe with the sweet potato noodles is Ali's Mexican Street Corn Sweet Potatoes with Creamy Chipotle Avocado Sauce. I used monterey jack cheese instead of cotija and it was spicy and fantastic!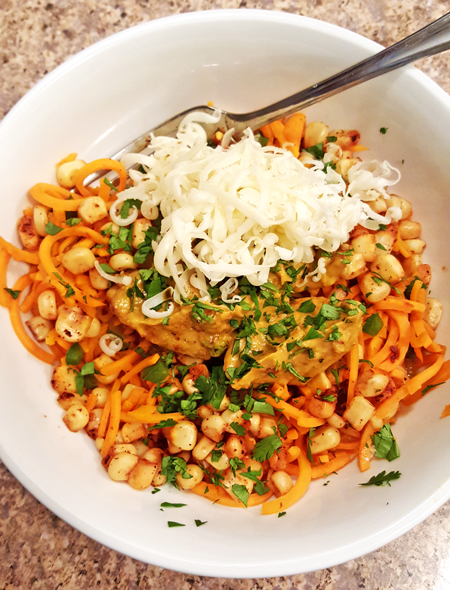 Shrimp is a really good topper for most spiralized veggies and it's fast! Here I used a different noodle setting on The Inspiralizer
to get bigger noodles. There's a setting for ribbon-sized, fettuccine, linguine, and spaghetti. Spaghetti is the size I use most.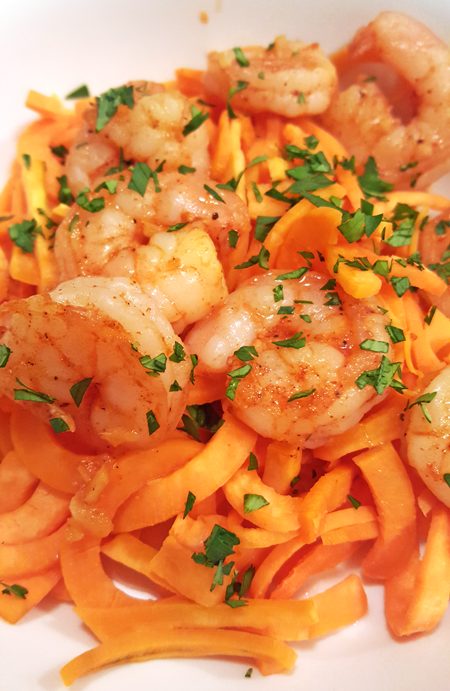 Now to the rice! I first made Ali's Vegan Fajitas with Sweet Potato Rice and was hooked. I kept thinking it wouldn't taste good, but it's way better than if this had been made with traditional rice.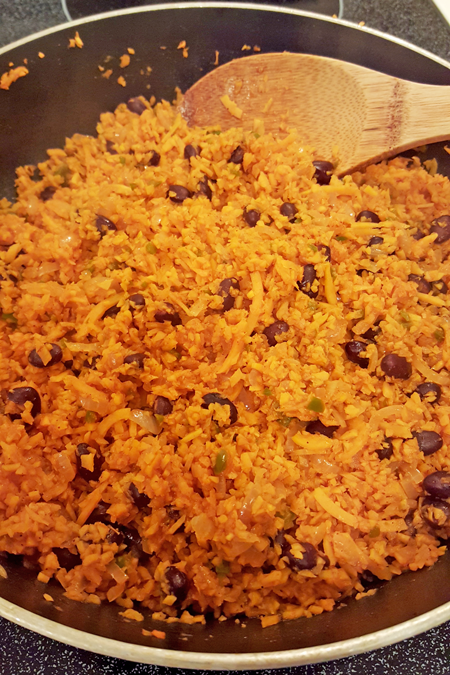 Serve it in a bowl topped with all kinds of goodies like cheese, sour cream, avocado.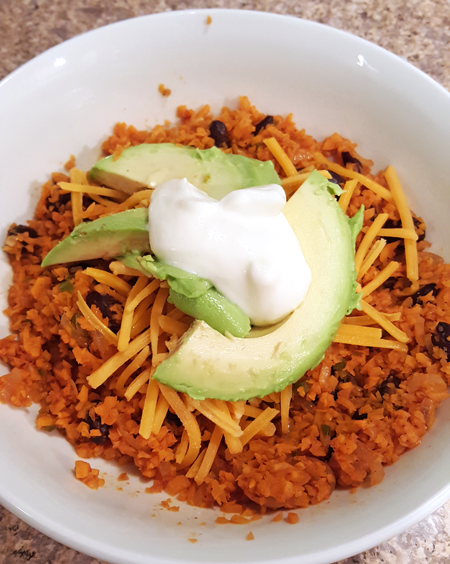 I also made a similar dish from Ali's book Inspiralized
. It's her Enchilada Bake and similar to the fajitas. This one gets cooked in a skillet and then transferred to a baking dish.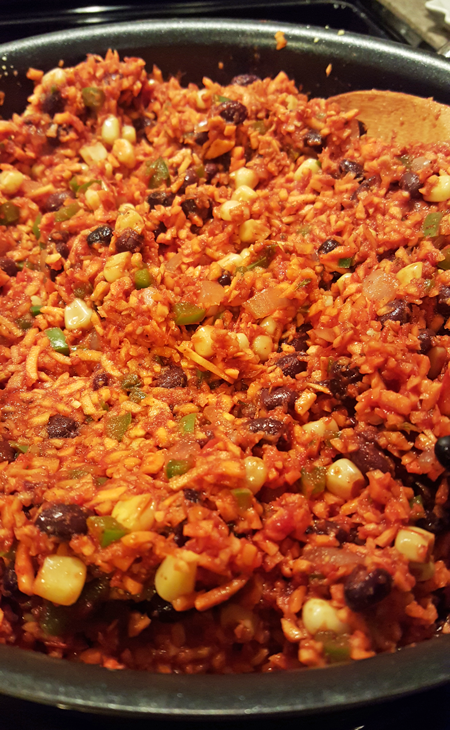 Then it's topped with cheese and baked. It's so good! This is the kind of dish that gets better the next day, too.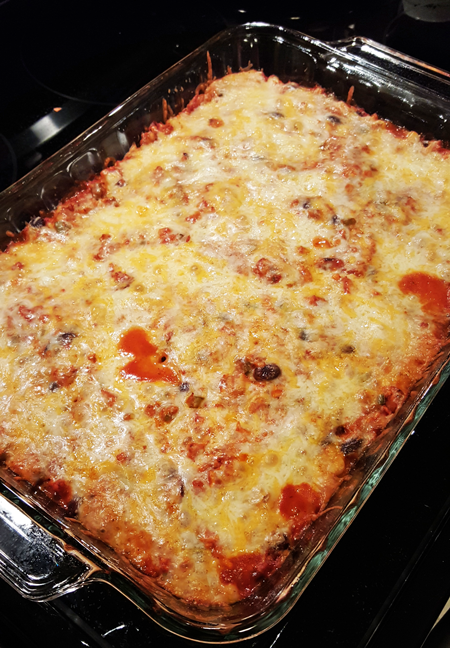 That's what I've been spiralizing lately! Are you a spiralizer? What are some of your favorite recipes? Follow me on Instagram to see what I spiralize next!
Spiralizing Resources
Inspiralized – tons of recipes
Inspiralized – Ali's latest cookbook

The Inspiralizer – the best spiralizer, in my opinion
Vegetables that can be spiralized and how to cook them
Spiralized Veggies – my Pinterest board for recipes

8 Life-Changing Ways to Use a Spiralizer – Pinch of Yum also reviews two other spiralizers in this post
Disclaimer: I am not associated with any of the products or websites listed in this post. This post is my personal opinion and I was not compensated to write it. This post contains affiliate links.