I get really excited when I find foods from healthy cookbooks that I end up liking so much that I make them when I'm not trying to be healthy. Blue Cheese-Walnut Roasted Potatoes happen to fit into that category. All in moderation of course, which can be hard because these potatoes are irresistible. Potatoes and blue cheese go well together and so do walnuts and blue cheese, so why not put all three together?!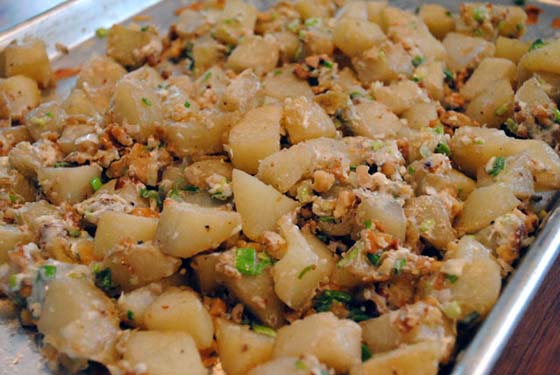 So, how's it taste?
These potatoes pretty much rocked my world. I love roasting all kinds of vegetables because I think it really brings out their flavor. The walnuts add a nice crunch and pair so well with the blue cheese. I really liked the scallions, too. They added a not-too-harsh onion taste to round out the dish. I ended up scooping these into a big bowl and having them as a meal! They would be the perfect side to a nice juicy steak.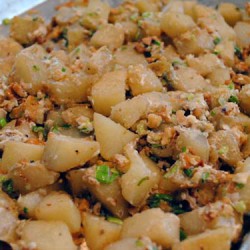 Blue Cheese-Walnut Roasted Potatoes
Ingredients:
1 lb. thin-skinned baby potatoes, halved
1 1/2 tsp. olive oil
1/4 tsp. freshly ground black pepper
1/8 tsp. salt
1/2 cup coarsely chopped walnuts
2 oz. crumbled blue cheese
2 scallions, thinly sliced
Directions:
1. Preheat oven to 425. Coat a 9x9-inch baking pan with cooking spray or line with parchment paper. Place potatoes in prepared dish and toss with olive oil, pepper, and salt. Turn cut side down in the pan. Roast for 30 to 35 minutes until tender and lightly golden.
2. Meanwhile, put the walnuts in a small baking pan and toast in oven for 6 to 8 minutes. Let cool. Place walnuts in a bowl and add the blue cheese and scallions.
3. When potatoes are done, turn them over and sprinkle evenly with walnut mixture. Bake for 5 more minutes or until the cheese is melted.