Now this is an irresistible pasta salad. If you don't believe me, just continue reading and see how quickly you run to the store for the ingredients. Or if you're like me, you may have most of them on hand. I've been cooking so much at home that I have a pretty well-stocked pantry, so when my friend Heather at Life By the Spoonful tweeted about a pasta salad she had to make right that second, I was intrigued. I had all but one ingredient on hand and with a little adaptation, I created this Spicy Pasta Salad with Chicken and Smoked Gouda. I haven't stopped craving it since!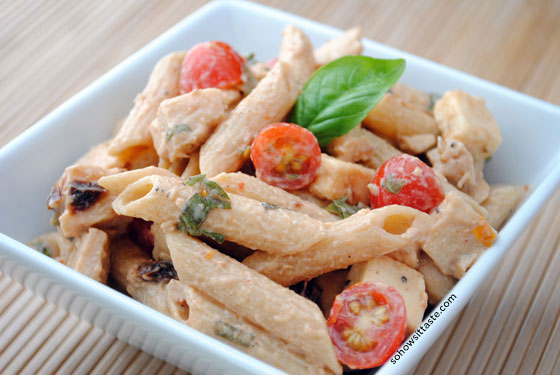 So, how's it taste?
It's delightful. It hits every note of flavor with just a few ingredients. This pasta is so easy to whip together. Waiting on it to chill is the hardest part! I used whole wheat Penne, but any tubular pasta would work well. The dressing is tangy and coats the salad just enough, so it's not goopy. The adobo sauce provides a bit of smoky heat and pair that with smoky Gouda for an unbelievable combo. It's not too heavy thanks to the grape tomatoes. I didn't have those on hand at first, so I used sun-dried tomatoes. The sweetness of the sun-dried tomatoes was a nice compliment to the heat, but it was missing that burst of freshness. It definitely needs the grape tomatoes. Smoky, sweet, tangy, creamy, it's the perfect summer pasta salad. I added chicken to make it a full meal, but you could leave it out and reduce the dressing a bit to make a wonderful side dish. The finishing touch of fresh basil rounds out the flavor for an unforgettable dish.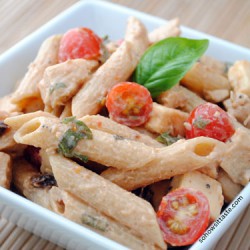 Spicy Pasta Salad with Chicken and Smoked Gouda
Ingredients:
6 oz. Penne
1/4 cup mayonnaise
1/3 cup whole milk
1/3 cup white vinegar
1 tsp. adobo sauce from chipotle peppers (or one minced chipotle pepper)
1/4 cup sun-dried tomatoes, finely chopped
1/4 tsp. salt
Freshly ground black pepper to taste
1 cup grape tomatoes, halved
4 oz. smoked Gouda, cut into small cubes
1 1/2 cups cooked chicken, cut into bite-sized pieces
12 whole basil leaves (chiffonade)
Directions:
1. Cook pasta according to directions on box. Drain and rinse in cold water until no longer hot. Set aside.
2. Mix mayonnaise, milk, vinegar, adobo, sun-dried tomatoes, salt, and pepper in a small bowl.
3. In a large bowl, stir together pasta, dressing, grape tomatoes, Gouda, and chicken. Taste for seasonings, adding more salt and pepper if needed. Stir in basil. Refrigerate for a few hours before serving.