When I plan a meal, I usually like to choose a green side dish to balance out all the carbs I favor. I wouldn't complain with an all-carb meal, but when cooking for others, I try to resist the urge. These Garlic-Roasted Green Beans and Shallots with Hazelnuts made me forget how much I love carbs. Green beans are my go-to side, but I do get bored with them easily. I served these green beans to complete the Best-Ever Gourmet Meat Loaf and Buttermilk Ranch Mashed Potatoes meal. A fancy meal for guests, but easy to make on a weeknight as well.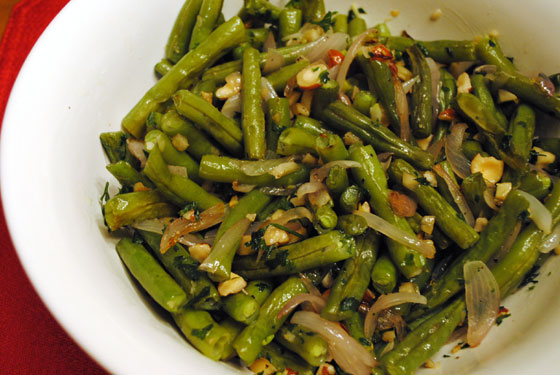 So, how's it taste?
I'll eat any vegetable that is roasted. I think roasting brings out their natural flavors and I love to experiment with different herbs and spices. I was all over this recipe and couldn't wait to taste it. The mild hint of onion from the shallots combined with the garlic made this a stand-out dish, which doesn't happen often with green beans. The chopped hazelnuts added a nice contrasting crunch and made the dish special. This version of green beans will make my list for many meals to come.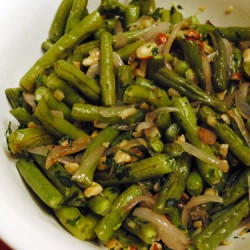 Garlic-Roasted Green Beans and Shallots with Hazelnuts
Ingredients:
6 shallots (I only used 4)
1 lb. fresh green beans, trimmed
5 garlic cloves, coarsely chopped (I only used 3)
3 tbsp. extra-virgin olive oil
1 tsp. kosher salt
1/2 tsp. freshly ground pepper
1/4 cup finely chopped fresh flat-leaf parsley
1/4 cup coarsely chopped toasted hazelnuts
1 tsp. finely grated lemon zest
Directions:
1. Position an oven rack in the center of the oven and preheat to 450 degrees. Cut each shallot lengthwise into 1/4-inch slices. Combine the shallots, beans, garlic, and olive oil in a bowl and toss to coat. Sprinkle with the salt and pepper and toss again.
2. Spoon the bean mixture into a 10x15-inch baking dish and roast for 18 to 20 minutes or until the vegetables are light brown and tender, stirring once. Mix the parsley, hazelnuts, and lemon zest in a bowl and sprinkle over the top, tossing to mix. Serve immediately.