This Zucchini & Yellow Squash Gratin is a great way to eat your veggies! Although it may not be the healthiest with all that delicious heavy cream! For a special occasion, it's perfectly acceptable. This was also part of our Christmas dinner along with the world's best Roasted Pork Tenderloin. I like zucchini and yellow squash a lot, but usually overlook them as a side for special dinners. This gratin changes everything! I like the color of the two squash, but if you don't like zucchini you can use all yellow squash and vice versa.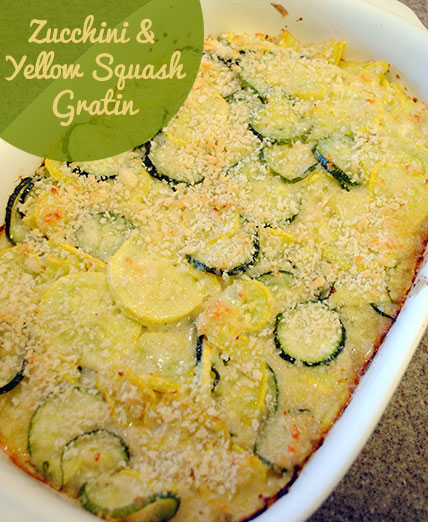 So, how's it taste?
It's such a simple dish that I really wasn't expecting it to be all that. I was wrong! This was fantastic! The garlic, the onion (I used onion instead of shallots), and the Parmesan really accent the squash. The squash are tender, but still have somewhat of a bite to them. The sauce gets creamy and thick and decadent, but it's not too rich. The top has a nice crusty crunch from the Panko and Parmesan. I decided not put as much of the Panko on top and I'm glad I did. While I loved this dish fresh out of the oven, the leftovers get a bit soggy from all the Panko. You probably could reheat the leftovers in an oven or toaster oven, but I'm way too lazy for that. I think next time I make this, I may even reduce the amount of Panko inside, too. I'm guessing you could lighten up the dish and use half and half instead of heavy cream. However, you decide to make it, just make it! It's absolutely fabulous and such a great way to showcase zucchini and yellow squash.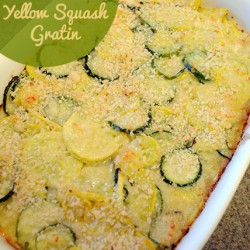 Yield: 6-8 servings
Prep Time: 20 min
Total Time: 30 min
Zucchini & Yellow Squash Gratin
Ingredients:
2 tbsp. butter
2 medium zucchini (about 7 oz. each), sliced crosswise 1/4 inch thick
2 medium yellow squash (about 7 oz. each), sliced crosswise 1/4 inch thick
2 shallots, minced
2 garlic cloves, minced
Coarse salt and ground pepper
1/2 cup heavy cream
1 cup panko
1/2 cup grated Parmesan cheese
Directions:
1. Preheat oven to 450. In a large skillet, melt butter over medium heat; add zucchini, yellow squash, shallots, and garlic. Season with salt and pepper. Cook, stirring occasionally, until zucchini and squash are crisp-tender, 4 to 6 minutes.
Step 2
2. Add cream, and cook until thickened, about 5 minutes. Remove skillet from heat; stir in 1/2 cup panko and 1/4 cup Parmesan.
Step 3
3. Spoon mixture into a shallow 2-quart baking dish. Sprinkle with remaining panko* and Parmesan; season with salt and pepper. Bake until top is golden, 8 to 10 minutes.
*Note: I felt like a 1/2 cup of Panko on top was way too much, so I only sprinkled a few tablespoons instead.