Mashed potatoes. I love them. I love the real deal and I love instant. I could (and have) had a bowlful of mashed potatoes for dinner on several occasions. They are one carb I will never give up (although for the record, mashed cauliflower is darn delicious, too).  You have to admit, making the real deal can be quite time consuming, and a lot of folks refuse to do instant. Enter Quick Chive Mashed Potatoes. They're quick and easy, yet not from the powdered stuff. A nice middle ground for when you're short on time for dinner.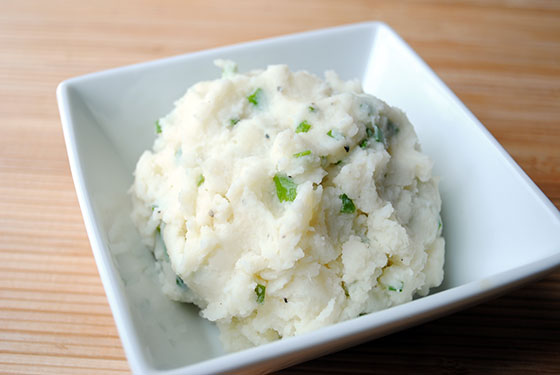 So, how's it taste?
Really good. I was shocked you could get the flavor and texture from frozen mashed potatoes. I had never heard of Ore Ida Steam n' Mash until I found this recipe. I try to stay away from the frozen potato aisle and all those fries begging to get in my cart. The Steam n' Mash are cubes of potatoes and you steam them right in the bag (or in a bowl if you don't want the whole thing) in the microwave and then mash with a fork. Pretty simple and you can have them as chunky or as smooth as you like. I like mine with a few big chunks. For this recipe, sour cream, fat-free milk, and butter are added. I left out the butter to save calories and it works great without it. I also used reduced-fat sour cream. AND…I used almond milk. I forgot to buy regular milk and that was all I had on hand but guess what? It totally worked! You couldn't detect anything different at all. Saving on calories again! The flavor is spectacular with the chives. Chives and sour cream, sign me up!
I will note that a few of the chunks didn't cook through as much as the others. While I was mashing with a fork, I noticed some were harder to mash. To remedy that, pop your bowl back in the microwave for a few seconds and they'll cook more.
I served these Quick Chive Mashed Potatoes with Hamburger Steak and Onion Gravy. It's a meat and potatoes meal you'll love and won't feel guilty about eating since the meal is under 400 calories. Add some cooked carrots and you've got a winning dinner in no time.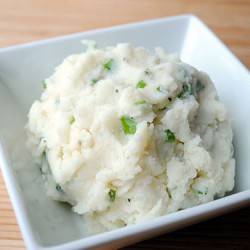 Quick Chive Mashed Potatoes
Ingredients:
2 cups frozen mashed potatoes (such as Ore Ida Steam n' Mash)
2 tbsp. chopped fresh chives
2 tbsp. sour cream (reduced fat works well)
2 tbsp. fat-free milk (almond milk works well)
1 tbsp. butter (can omit if preferred)
1/8 tsp. freshly ground black pepper
Directions:
1. Heat mashed potatoes according to microwave instructions.
2. Stir in chives, sour cream, milk, butter, and pepper.