I'm a big fan of fish tacos. There used to be a restaurant in Nashville that had THE BEST ones, but they closed years ago, so I'm always on a quest to find fish tacos as good as those. I couldn't wait to see how these Fish Tacos with Lime-Cilantro Crema would stack up. I was pretty much sold on them from the word "crema."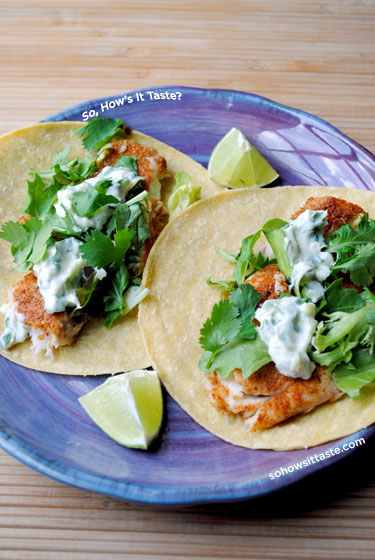 So, how's it taste?
They didn't top my beloved fish tacos, but I would rate them a pretty close second. Anything with sour cream has my instant attention. The sauce brings so much to the dish. It starts with a base of sour cream and mayo, then add green onions, cilantro, lime, and garlic. It gets better the longer its together. Next is the fish. I love tilapia because it can take on any flavor you want. Cumin, coriander, smoked paprika, cayenne, and garlic powder. That is a winning combination for this dish! It's smoky and spicy, so the crema on top pairs with it beautifully. These tacos would have been even better had I remembered the cabbage! Something about that crunch with the tender fish is just magic. I was too lazy to run back to the store, so I ate mine with lettuce I had on hand. Still pretty tasty, but I missed the crunch. My only gripe is the corn tortillas. I'm not a fan, but went with them because they are lower in calorie than flour tortillas. They broke apart while I was eating my taco and made for one messy dinner. I ended up eating the rest like a tostada with a fork. Next time I'll splurge on the flour tortillas so they stay together, but to each his own!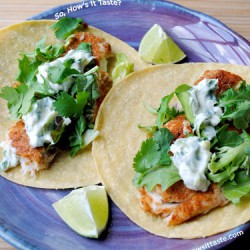 Fish Tacos with Lime-Cilantro Crema
Ingredients:
Crema
1/4 cup thinly sliced green onions
1/4 cup chopped fresh cilantro
3 tbsp. fat-free mayonnaise
3 tbsp. reduced-fat sour cream
1 tsp. grated lime rind
1 1/2 tsp. fresh lime juice
1/4 tsp. salt
1 garlic clove, minced
Tacos
1 tsp. ground cumin
1 tsp. ground coriander
1/2 tsp. smoked paprika
1/4 tsp. ground red pepper
1/8 tsp. salt
1/8 tsp. garlic powder
1 1/2 lbs. red snapper fillets (I used tilapia)
Cooking spray
8 (6-inch) corn tortillas
2 cups shredded cabbage
Directions:
1. Preheat oven to 425°.
2. To prepare crema, combine the first 8 ingredients in a small bowl; set aside.
3. To prepare tacos, combine cumin and next 5 ingredients (through garlic powder) in a small bowl; sprinkle spice mixture evenly over both sides of fish. Place fish on a baking sheet coated with cooking spray. Bake at 425° for 9 minutes or until fish flakes easily when tested with a fork or until desired degree of doneness. Place fish in a bowl; break into pieces with a fork. Heat tortillas according to package directions. Divide fish evenly among tortillas; top each with 1/4 cup cabbage and 1 tablespoon crema.