I have tons of those little Betty Crocker and Pillsbury cooking magazines. I was a subscriber for almost ten years! And how many recipes have I made from all those delicious entries? Probably less than 30.
So I decided, with inspiration from the movie Julie & Julia, to cook my way through my collection of cookbooks and magazines. With a dabble here and there into local Nashville eats and any food product that makes it way into my cart, all to find out…so, how's it taste?
My first recipe is Herbed Chicken and Broccoli Quiche.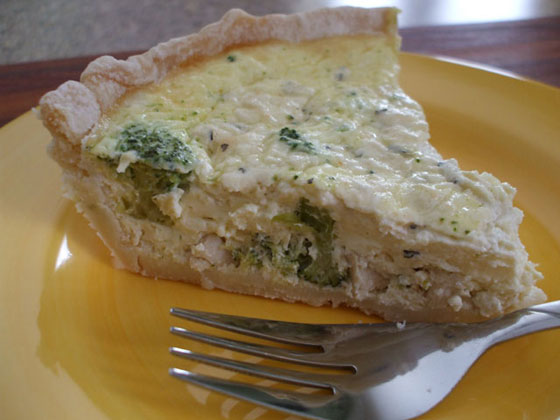 I love quiche. Any kind of quiche. So it was a no-brainer choosing this one. I wasn't in the mood to pick through a rotisserie chicken (and I needed lots of chicken for another recipe), so I decided to use chicken breasts that I baked beforehand.
Using a purchased refrigerated pie crust, chicken, eggs, half-n-half, broccoli and cream cheese it was easy to put together. I did have a hard time finding the garlic and herb whipped cream cheese. I ended up purchasing the original and trying to make my own. Not too shabby but holy garlic overload!
I thought I had ruined the dish from the fumes of garlic as it was baking. I also had to bake the quiche about 15 minutes longer than the recipe suggested.
So, how's it taste?
Absolutely fabulous! This quiche is so light and flavorful. At around 400 calories a slice, it's not too shabby for the figure either. My homemade garlic cream cheese turned out to be not so powerful in flavor as it did in smell, which was a plus. This quiche is perfect for a light lunch and very portable for you brown-baggers.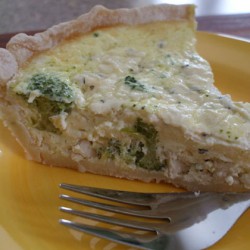 Herbed Chicken & Broccoli Quiche
Ingredients:
1 box refrigerated pie crusts, softened as directed on box
1 cup chopped deli rotisserie chicken (from 2- to 2 1/2-lb chicken)
1 cup frozen chopped broccoli, thawed, drained
4 eggs
1 3/4 cups half-and-half
1/4 tsp. salt
1/2 cup garlic-and-herb whipped cream cheese spread (from 8-oz container)
Directions:
1. Heat oven to 400°F. In 9-inch glass pie plate, place pie crust as directed on box for one-crust filled pie. Bake 8 to 10 minutes or until light golden brown.
2. Sprinkle chicken and broccoli in partially baked crust.
3. In medium bowl, beat eggs, half and half and salt with wire whisk until well blended. Pour into crust.
4. Drop cream cheese by teaspoonfuls into quiche. Cover crust edge with strips of foil to prevent excessive browning. Bake 10 minutes.
5. Reduce oven temperature to 300°F. Bake 35 to 40 minutes or until knife inserted in center comes out clean. Remove foil; let stand 15 minutes before serving.