I know you're going to scan through this post and think, "why in the world are you blogging about a sauce mix packet?" Normally I wouldn't. This meal would be filed away under "Things I eat, but don't tell anyone because I'm a food blogger damnit!" Believe me, that is a very long list. Sometimes I crack myself up over the random stuff I eat. I've got a rep to uphold right? Yeah, no. One of the best things about making a meal is not only that you get to eat it, but the memory it brings back. In college, my roommate Carol and I thought we would be fancy pants and make a fabulous dinner. We stumbled on this Knorr Parma Rosa sauce mix and decided to serve it over pasta and add shrimp. Complete with crusty garlic bread, we pretty much thought we replicated fine dining. It makes us both chuckle to think back to how we thought we were the shiz making this. Funny thing, this Shrimp Parma Rosa is the shiz…still. I hadn't made it in years, but was craving it and I texted Carol a pic of the packet and "look what I'm making for dinner!" Her response? "I make that all the time! I recommend adding 1/4 cup Parmesan." Ah, some things never change…and I like it that way. Still fancy after all these years! 😉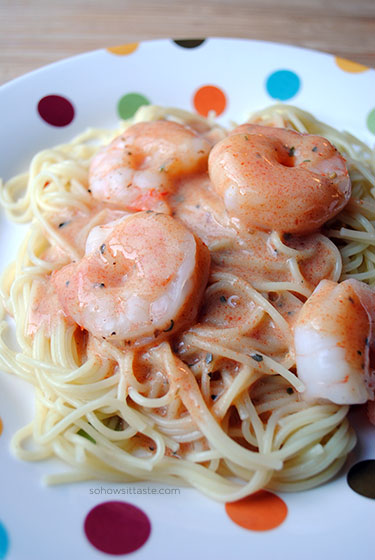 So, how's it taste?
It's really quite a lovely sauce. It's pink and has a creamy tomato flavor. It goes perfectly with shrimp and makes a pretty pink presentation. Going on it's name, I'm guessing it has Parmesan, too. Take Carol's advice and add some to top off your spaghetti. I've made this with 1% milk and the butter it calls for and I make it with nonfat milk and no butter. Each option is delicious, it just depends on how rich you want the sauce. If you use nonfat milk, it takes a bit longer for the sauce to thicken. I like to serve mine with delicate angel hair pasta, but choose whichever version you like. Round out this meal with salad and garlic bread, then put on your fancy pants and enjoy!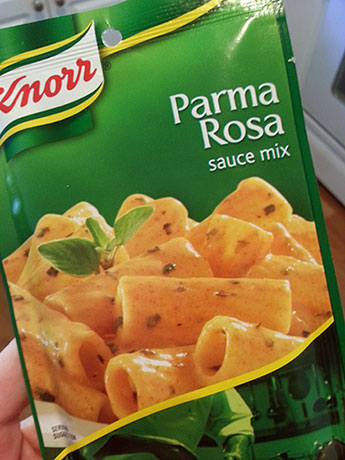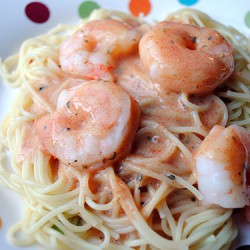 Shrimp Parma Rosa
So, How's It Taste? original (and Knorr and Carol)
makes 4 servings
per serving: 270 calories, 1.2g fat, 40.5g carbs, 2.4g fiber, 7.6g protein
*Note: Nutrition information based on using nonfat milk and omitting butter and Parmesan.
Ingredients:
8 oz. angel hair pasta
1/2 lb. uncooked, peeled shrimp
seasoning salt
freshly-ground black pepper
1 (1.3 oz.) Knorr Parma Rosa sauce mix packet
1 tbsp. butter (can omit)
1 1/4 cups milk (I use nonfat)
Parmesan, optional
Directions:
1. Cook your pasta according to the package directions. Preheat oven to 400F.
2. Place shrimp on ungreased baking pan and sprinkle with seasoning salt and pepper. Roast for 8-10 minutes, turning shrimp over half way, until shrimp turn pink.
3. Prepare sauce mix according to package directions.
4. To serve, top pasta with sauce and shrimp. Sprinkle Parmesan on top, if desired.