I love a good soup. Even when it's hot outside, I'll still crave a good bowl of soup. They're easy, comforting, and a great source for bread-dipping. This Roasted Tomato-Corn Chowder with Cilantro Pesto certainly meets all those requirements. It takes no time to make, is low calorie (which hello, room for more bread!), and only makes four servings so you're not stuck eating soup for weeks. A tasty bonus is the cilantro pesto swirled on top with pepitas!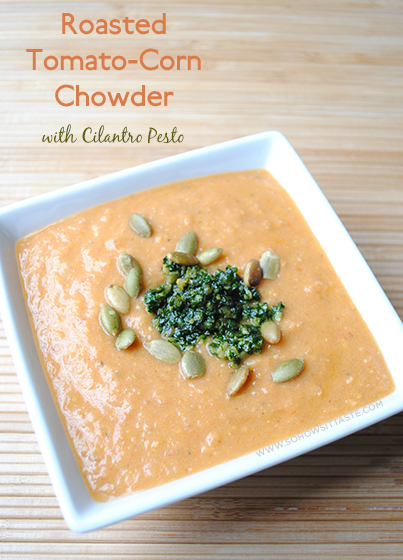 So, how's it taste?
It's really light, yet slightly creamy and has a nice corn flavor. The tomato flavor wasn't as prominent as I thought it would be, so next time I might up the tomato factor a bit. I did enjoy the texture a lot. The soup gets blended (I used an immersion blender), but it doesn't get completely smooth. The corn gets blended into tiny flecks, so you can still detect them. I also liked the crunch of the full-sized pepitas and they added a touch of saltiness, which the soup really needs. I went against my instinct and used low-sodium chicken broth and every time I do, I always wish I had used regular chicken broth. I ended up salting my servings quite a bit. Low-sodium chicken broth might as well be water, in my opinion. Despite that hiccup, it was tasty. I love discovering new pestos and really liked this cilantro-pepita version. It could've used a bit more Parmesan, but was quite delicious swirled into the soup. A serving is quite a lot of soup and this one was very filling…although full disclosure, a lot of bread dunking was going on, too!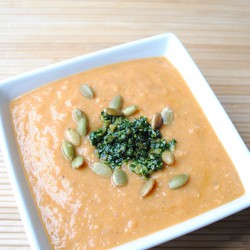 Yield: 4 servings
Prep Time: 15 min
Total Time: 30 min
Roasted Tomato Corn Chowder with Cilantro Pesto
Homemade tomato-corn chowder with a swirl of cilantro pesto and pepitas.
Ingredients:
Chowder
2 tbsp. extra-virgin olive oil
1 cup chopped white onions
1/4 cup chopped poblano chile
1/2 tsp. freshly ground black pepper
1/4 tsp. salt
1 1/2 cups frozen sweet corn
1 can (14.5 oz) fire roasted diced tomatoes, undrained
1 can (14 oz.)  reduced-sodium chicken broth (or vegetable broth)
1/2 cup half-and-half
Pesto
1 cup firmly packed fresh cilantro
2 tbsp. freshly grated Parmesan cheese
2 tbsp. salted roasted hulled pumpkin seeds (pepitas), plus extra for garnish
1/8 tsp. salt
1/4 tsp. freshly ground black pepper
2 tbsp. extra-virgin olive oil
Directions:
1. In 3-quart saucepan, heat 2 tablespoons oil over medium-high heat. Add onions and chile; sprinkle with 1/2 teaspoon pepper and 1/4 teaspoon salt. Cook 5 minutes, stirring frequently. Stir in frozen corn, tomatoes, and broth. Heat to boiling over high heat, stirring occasionally. Reduce heat to low; cover and simmer 10 to 15 minutes.
2. Meanwhile, in small food processor bowl, place all pesto ingredients except oil. Cover; process with on-and-off pulses 2 or 3 times to mix. With food processor running, slowly drizzle 2 tablespoons oil into mixture, processing about 30 seconds or until well blended. Set pesto aside.
3. In blender or with immersion blender, blend chowder (in 2 batches, if necessary) about 30 to 60 seconds or until almost smooth. Stir in half-and-half. Heat just until warm.
4. Ladle chowder into individual bowls. Top each with 1 heaping tablespoon pesto to be swirled in before eating. Sprinkle with pepitas, if desired.
per serving: 320 calories, 21g fat, 24g carbs, 4g fiber, 9g protein