I hate it when a good pasta dish goes bad because of crappy pasta. This is my second time cooking with whole-grain/whole-wheat pasta, and it's my last. I don't care for the texture or the taste. I already had a tough start with this Broccoli Linguine with Feta because it was supposed to be broccoli rabe. Apparently it was my grocery store's mission to be out of the stuff they usually carry when I need it. This was the same trip they were out of fennel for this sandwich. Of course yesterday when I went, there was both! I have no idea if broccoli is an appropriate substitute for broccoli rabe, but I liked it and it works well in pasta, so I went for it. This pasta dish is loaded with all kinds of hearty, filling goodies. If it weren't for that damn linguine.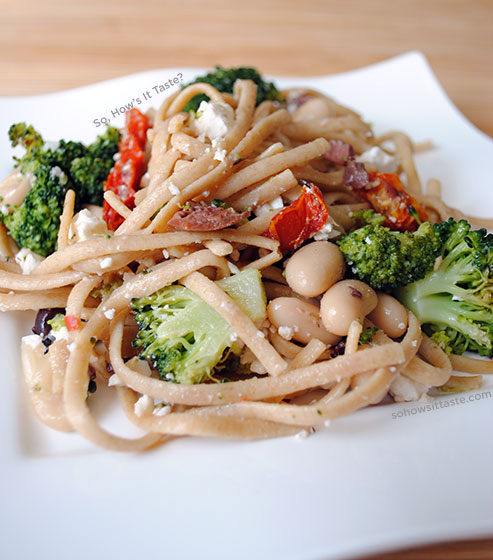 So, how's it taste?
I think this pasta would be awesome with regular linguine. Yeah, I know the whole-grain is healthier, but it's not for me. The texture is like sandpaper and the flavor is similar to what I think cardboard might taste like. This dish doesn't really have a sauce and the whole-grain linguine sucked up every little inch. I remembered to save some of the cooking water (a trick I learned from Giada) and that still didn't help much. It was very dry. Thank goodness it was only four servings. It's really a shame the pasta ruined it. I do want to try it again and see what a difference it makes. I might even mash up a few of the cannellini beans and sort of create a sauce. I loved the hit of salt from the Kalamatas. And I really liked how chunky it was with the broccoli, beans, and strips of tomatoes. Even though I didn't enjoy this version, it was very filling. I think it would give it a nice burst of freshness to include a squeeze of lemon, too.
How do you feel about whole-wheat/whole-grain pasta? What kind of sauce do you serve with it?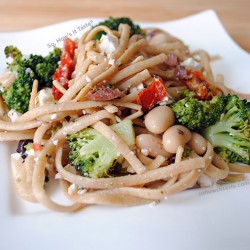 Broccoli Linguine with Feta
slightly adapted from The Best of Clean Eating 3
makes 4 servings
per serving: 394 calories, 9g fat, 66g carbs, 11g fiber, 19g protein
Ingredients:
4 cups broccoli, trimmed and cut into bite-sized pieces
8 oz. whole-grain linguine pasta
1 1/2 tsp. olive oil
3 cloves garlic, chopped
1/4 tsp. red pepper flakes
black pepper, to taste
15 oz. cannellini beans, drained & rinsed
12 Kalamata olives, pitted & chopped
1/4 cup sun-dried tomatoes (dry-packed), chopped
2 1/2 oz. feta cheese, crumbled
Directions:
1. Bring a large saucepan of water to a boil. Add broccoli and return to a boil. Cook until just tender, 3 to 4 minutes. Remove from heat. Using tongs or a slotted spoon, transfer broccoli to a colander to drain; do not discard cooking water.
2. Return saucepan to a boil. Add pasta and cook according to package directions, until al dente. Save about 1 cup of the cooking water. Drain.
3. In a large skillet, heat oil on low. Saute garlic and pepper flakes, stirring constantly, for 1 minute. Stir in broccoli and black pepper. Increase heat to medium. Stir in beans, olives, tomatoes, and remove from heat.
4. Return pasta to saucepan and stir in broccoli mixture. Add reserved cooking water, in small increments, if pasta is dry. (If you salted your water, be mindful because you're adding salt, too.) Garnish servings with cheese and serve.