It should be obvious by now that I really like to cook. I love any excuse to fire up the oven and treat my friends to something yummy. So I didn't hesitate to find a quick and easy breakfast for a friend staying the night and getting up early for a job interview. The pressure was on! Luckily I have another friend over at Tennessee Pride who sent me one of their cookbooks. Bingo! I instantly stopped at the Breakfast Crescent Pizza. Sausage, cheese, hash browns, over a crescent roll crust…yes, please!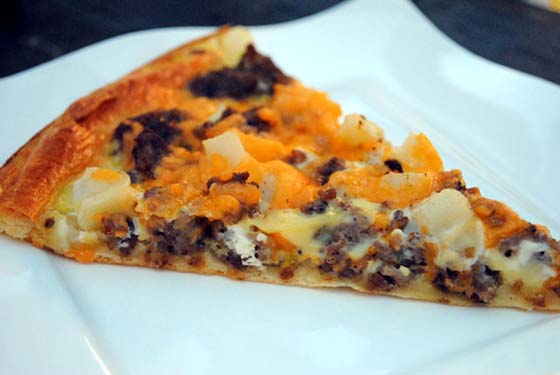 So, how's it taste?
First I couldn't believe how easy it was to make. Cook the sausage, shape the crescent rolls into a round pizza, and top it. It's that simple. You could experiment with adding anything you like, mushrooms, peppers, onions. I stuck to the recipe and added the sausage, cheese, and hash browns. Boy was it delicious. It's almost like a breakfast quiche with a crunchy crust. We loved it. Serious flavor from the sausage, gooey cheese, and chunky bites of potato.
Make sure you have a decent pizza pan though. Mine was a cheap one that warped when it got hot so I had half my eggs drip over the side! Not a good smell in the house and it was one heck of a mess to clean. You could bake this in a 13x9x2 pan, but you won't get the crispy crust. Despite the egg mishap, the pizza was awesome. Perfect for a hearty breakfast that's quick to prepare. I used the reduced-fat crescent rolls to keep the crust from being too greasy. And guess what? My friend got the job! I'm pretty sure it was all due to the breakfast pizza!
Disclosure: Tennessee Pride sent me a cookbook and coupons for free Tennessee Pride sausage, but I was not compensated for this post. All opinions expressed here are solely my own.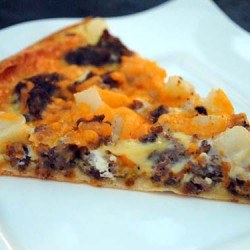 Breakfast Crescent Pizza
Ingredients:
1 lb. sausage (mild or hot), cooked, crumbled, drained
8 oz. refrigerated crescent roll dough
1 cup frozen southern-style hash browns, thawed
1 cup shredded cheddar cheese
5 eggs
1 tsp. mustard (optional)
1/4 cup milk
salt and pepper, to taste
Directions:
1. Preheat oven to 375. Grease a 12-inch round pizza pan or a 13x9x2 baking pan.
2. Arrange crescent rolls on bottom of pan; flatten and press edges up sides of pan slightly.
3. Spoon sausage over crust. Sprinkle with potatoes; top with cheddar cheese.
4. Whisk eggs, mustard, and milk in mixing bowl until well blended; pour over casserole.
5. Bake 25 to 30 minutes or until set and golden brown. Season with salt and pepper.