Y'all. This Ultimate Coffee Cake has me swooning like the first time I ever laid eyes on Bradley Cooper. (Any Alias fans out there?) A couple of weeks ago, I was playing "let's see what's in the freezer" and found the remaining dinner roll balls from this Savory Monkey Bread. I wanted to use them up and vaguely remembered a coffee cake from Paula Deen. Turns out I had everything I needed except for one ingredient. Easy enough. Let's use up those rolls!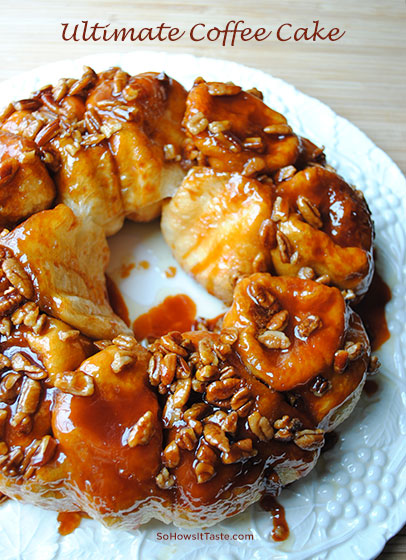 So, how's it taste?
Y'all. I mean y'all. It was way beyond what I thought it would be. Cover some dinner rolls in sweet stuff and it's really going to be that good? YES! It is so easy, I really don't know how it works. The magic of boxed pudding I guess! You must buy cook & serve, not instant, and don't even think about buying sugar free. Also, I wouldn't buy vanilla if you're apprehensive about butterscotch. It doesn't taste butterscotch-y at all, I just think it makes it richer. It kind of tastes like ooey, gooey, homemade caramel that you've slaved over a stove all day making.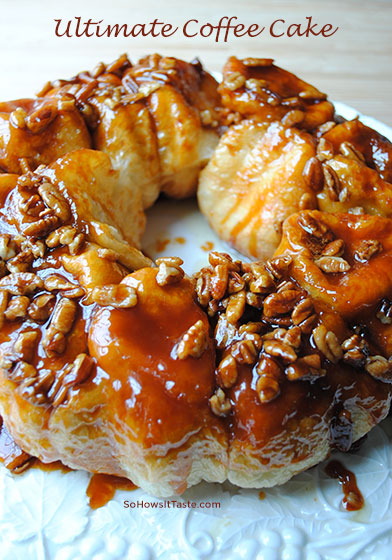 After reading some reviews, I ended up slightly changing the prep directions. Paula has you put the rolls in first and then sprinkle the ingredients on top. Some reviewers complained that it left a few dinner rolls without that sweet goodness. I combined all my ingredients (except for the melted butter) in a large bowl first and tossed. They won't mix perfectly, but it gets the pudding mix around all the rolls better. Then I dump it all into the Bundt pan and pour the melted butter on top. The hard part is the waiting. You have to let the rolls rise overnight. The next morning is super easy though. Pop it into the oven and ta da! Breakfast is done! I only had 12 rolls left in the bag and the recipe worked just fine. It meant more gooey sauce to go around!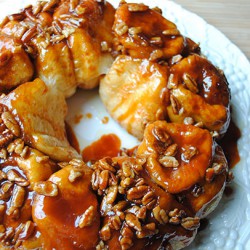 Yield: 6-8 servings
Prep Time: 10 min
Cook Time: 30 min
Total Time: 10 hr 40 min
Ultimate Coffee Cake
Ingredients:
16 unbaked frozen dinner rolls (I use Rhodes)
3 oz. package regular butterscotch pudding mix, not instant (do not use sugar free)
1/2 cup brown sugar, packed
1/2 cup pecans, chopped
1/2 cup butter, melted
Directions:
1. The night before place frozen rolls in a large bowl. Sprinkle dry pudding mix, brown sugar, and chopped pecans over rolls. Toss to combine. It won't mix perfectly since the rolls are frozen.
2. Add roll mixture to a well-greased Bundt pan. Pour melted butter over rolls. To prevent the dough from forming a hard crust while its rising overnight, cover with a damp towel or tightly wrap with plastic wrap. Let rise overnight at room temperature, about 8 to 10 hours.
3. In the morning, preheat oven to 350F.
4. Bake in oven for 25-30 minutes, until rolls start to get too brown on top. Remove from the oven and allow to cool in pan for 5 minutes. Turn pan over onto a serving platter to remove. Serve by pulling apart chunks with forks.