Quick breads are just the best! Especially the ones that don't require me to get out a mixer. Whisk the ingredients together, pour in a pan, bake. I haven't made anything pumpkin so far this year except for a failed attempt at pumpkin pancakes, so I was long overdue for some fall goodness in my kitchen. In the latest issue of Food Network magazine, their "50" pullout is all about quick breads. I pretty much want to bake every flavor! Since they're so easy, I actually baked two flavors at once (stay tuned for the second one). Both turned out super tasty, but the easiest by far was this Pumpkin Quick Bread.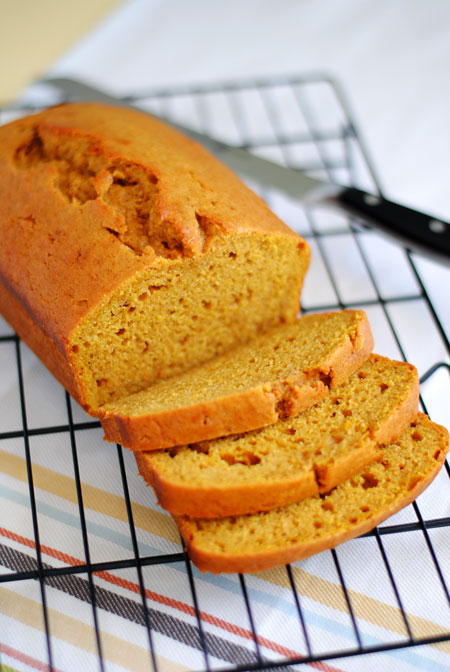 So, how's it taste?
Loved it! Exactly what I wanted in a pumpkin bread. Very moist, very pumpkin-y, and the perfect amount of spice. A slice (or three!) of this went great with my coffee and made for a delicious dessert after dinner. I found it was best the day it was made, but it was still pretty tasty on day two and three. I sliced the entire loaf and stored it in an air-tight container at room temperature. I didn't freeze any, but my guess is that it would freeze really well.
This bread is so easy to make, it would be great for a gift!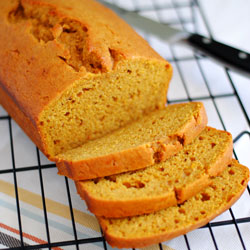 Pumpkin Quick Bread
Ingredients:
1 cup pumpkin puree
1/2 cup vegetable oil
1/2 cup light brown sugar
1/4 cup water
2 eggs
1 tsp. vanilla
2 1/4 cups all-purpose flour
3/4 cup granulated sugar
2 tsp. baking powder
1 1/2 tsp. pumpkin pie spice
1/2 tsp. salt
Directions:
1. Preheat the oven to 350F and line a 9-by-5-inch loaf pan with parchment paper, leaving an overhang on two sides; coat well with cooking spray.
2.  Whisk pumpkin puree, vegetable oil, light brown sugar, water, eggs, and vanilla in a large bowl. Separately, whisk flour, granulated sugar, baking powder, pumpkin pie spice, and salt. Fold the wet ingredients into the dry ingredients.
3. Add the batter to the prepared pan and bake 60 to 70 minutes, or until a toothpick inserted into the center of the loaf comes out clean. Let cool 1 hour, then remove the loaf from the pan and transfer to a rack to cool completely.