There's nothing better than a healthy obsession (does that exist or did I just create an oxymoron like jumbo shrimp?), except when two of those obsessions merge! And I use the term "healthy" loosely since I'm referring to the combination of pecan pie and cheesecake! Meet Pecan Cheesecake Pie!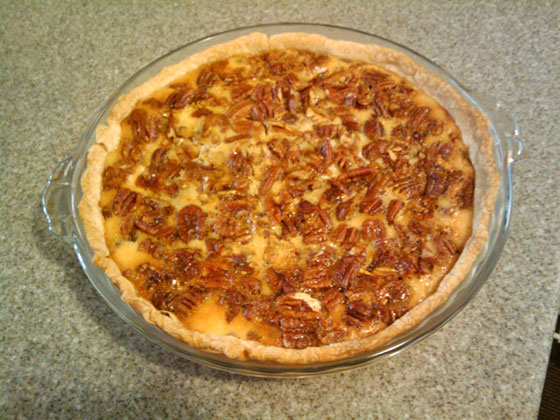 So, how's it taste?
It sounds fabulous and looks fantastic, but I was a tad bit disappointed. I made this for Thanksgiving dessert last year and I normally use the holiday as an excuse to eat several servings in one day. I found myself not really interested in this one. Don't get me wrong, it was good, but I found the combination of pecan pie and cheesecake to not be nearly as good as the two separately. I would have rather had a piece of each!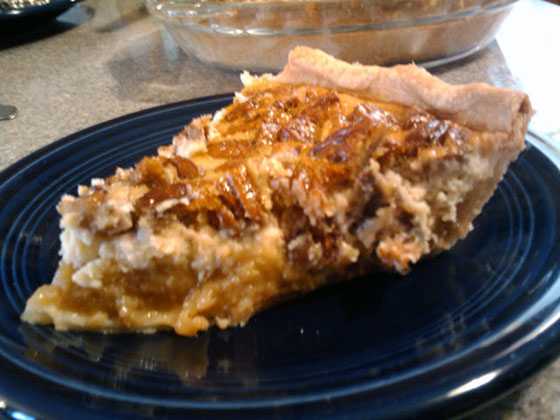 You know how in pecan pie, the pecans float to the top and the "goo" goes to the bottom? Same in this case, except the pecans end up on top of the cheesecake, and the cheesecake is on top of the goo. I needed my pecans and goo to be together to get that pecan pie flavor. It was just too weird texture-wise to have the goo on the bottom of cheesecake, and I don't know how I feel about cheesecake with a pie crust. Some things just aren't meant to go together.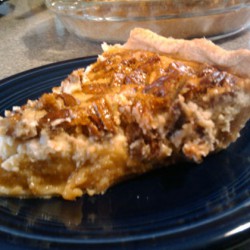 Pecan Cheesecake Pie
Ingredients:
1/2 (15 oz.) package refrigerated pie crusts
1 (8 oz.) package cream cheese, softened
4 large eggs, divided
3/4 cup sugar, divided
2 teaspoons vanilla extract, divided
1/4 teaspoon salt
1 1/4 cups chopped pecans
1 cup light corn syrup
Directions:
1. Fit pie crust into a 9-inch pie plate according to package directions. Fold edges under, and crimp.
2. Beat cream cheese, 1 egg, 1/2 cup sugar, 1 tsp. vanilla, and salt at medium speed with an electric mixer until smooth. Pour cream cheese mixture into pie crust; sprinkle evenly with chopped pecans.
3. Whisk together corn syrup and remaining 3 eggs, 1/4 cup sugar, and 1 tsp. vanilla; pour mixture over pecans. Place pie on a baking sheet.
4. Bake at 350° on lowest oven rack 50 to 55 minutes or until pie is set. Cool on a wire rack 1 hour or until completely cool. Serve immediately, or cover and chill up to 2 days.